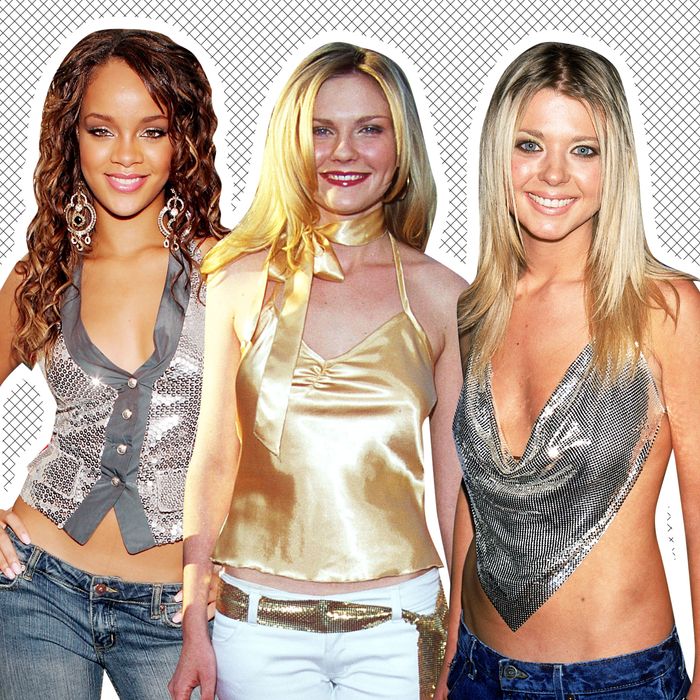 Photo-Illustration: by The Cut; Photos: Getty Images, Shutterstock
In the brief weeks before the Delta variant crushed my dreams of a "hot vaxx summer," I was enticed by a friend to do something I hadn't done in years: go to a nightclub. "You'll feel alive again," she promised. A small part of me felt that this might be true, and, given that the club was actually mostly outdoors, I grew increasingly excited as our agreed-upon time to report to the dance floor approached.
Until, of course, I went to get dressed and found myself standing at my closet, anxiously rifling through hangers and drawers. It seemed that I no longer owned any Going-Out Tops. This discovery was made more disturbing when coupled with a second revelation: the Going-Out Top as I knew it is about as dated as an Amerie song. "What do people wear 'out' these days?" I texted my friend. Though hardly the first to ponder this question, I was shocked by the answer. An hour later I was in an Uber dressed more for a cookout than a night on the town. But, on the crowded dance floor in Bushwick, me and my tank, jean shorts, and sneakers fit right in.
It felt sacrilegious.
You see, I came of age in early-aughts New York. An era when I went to "da club" more times a week than most people visit a gym. And in "da club" you needed to dress for the music video that was being filmed there, in your mind. For me and my girlfriends, the Going-Out Top was a fashion food group, a pillar of a wardrobe around which not only outfits but entire weekends were built. Before online shopping, an excursion to retail shops to find "the perfect Going-Out top," followed by brunch, was essentially an ideal Saturday afternoon with friends. And also, we could never get enough of them. They were at once a tidy solution — add boot-cut jeans and heels, and voilà! an evening outfit was made — as well as a form of self-expression.
But what constituted a Going-Out Top? Well, there was one for every kind of body, personality, and price point. For the woman who wanted to appear modest but still sexy, there was the Dolman sleeve with a deep-V neckline from H&M. A spaghetti-strap velvet tank from Intermix was the perfect choice for the "Haute Hippy" (a real category of dressing) of your crew. And, of course, nothing was more perfect for the "romantic" of the group than a satin cami with lace details from the most romantic of stores: Express. And then there was the ever-popular one-sleeve top, available absolutely anywhere. In the aughts, we really loved to bare arms, but only one of them. As for me, my personal favorite was the tube top. Nothing managed to say dressed — but also undressed — quite like that little circle of fabric. So dedicated was I to this particular style of Going-Out Top, I managed to "winterize" the look with variations in cashmere and tweed.
The social implications of aughts customs and fashion have not aged well. In addition to the pressure to look "sexy" enough to get past the doorman of whatever the venue de jour was, women were also currency in New York nightlife. A man could wear anything he felt comfortable in — sneakers, a T-shirt, jeans — provided he was accompanied by enough well-dressed ladies. It was all heteronormative, gender-conforming, and sexist. It also was, to be honest, a terribly, terribly good time.
You see, for me, the Going-Out Top is not just a fashion relic of the past; it's a totem of a bygone era in New York that, particularly after 9/11, felt urgent. After living in such proximity to death and the randomness of it, rather than be instilled with fear, the city, and those of us living here, were tenaciously ready to prove ourselves alive. It was a moment in time when you'd leave your house in the morning with a vague "plan" (that would get firmed up by email) to meet someone for an after-work drink and, four locations later, find yourself in a taxi mere hours before you'd start it all again. Every day held the possibility of adventure, random encounters, and spontaneity. The Going-Out Top was the article of clothing that embodied that sense of excitement.
Whether covered over with a blazer in the office or shoved in a purse to be swapped out for its evil twin, "the Work Top," at the end of the day, the Going-Out Top was as versatile and flexible as our nights were. And believe me, what we dressed for were our nights. Careers were important, ambitions were had and pursued as they always have been in New York, but work was what we did between living, and where we wanted to live was out.
It's not surprising I've been thinking about this so much since for the last year and half we've all been "in." But, things had been changing long before that: the economy, the role of work in our lives, the evolution and diminishment of nightlife in the city, the increasing demands on our time and inability to just "go where the night takes you." And last, but not least, fashion has changed. Now, we dress for comfort. We dress for our own amusement. We dress for the 'gram. But, in 2021, the idea of women packaging themselves to undergo the scrutiny of an apathetic doorman seems almost as controversial as swimsuit competitions. Yet, I can't say I regret even a single night that I did it. Because good times were had once you were past those velvet ropes. Few photos exist, but put on just the right song, and I can tell you exactly which Going-Out Top I was wearing the first time I heard it … "out."