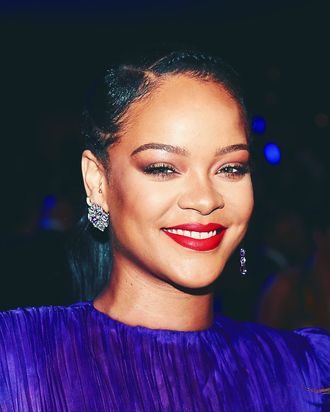 Rich Gal Riri
Photo: Paras Griffin/2020 Getty Images
All billionaires are bad, but if there must be billionaires, it's only right that Rihanna is one of them. According to Forbes, everyone's favorite bad gal is officially worth over a billion dollars ($1.7 billion, to be exact), making Rihanna the wealthiest female musician in the world. She's also the second-richest woman in entertainment — Oprah is still No. 1. With this news, we move on to phase two: Let Rihanna go to space like all the billionaire boys before her. Oprah is invited as well.
Despite her being named the richest woman in music, the majority of Rihanna's wealth does not come from her music career. This is, of course, unsurprising to those of us who have been asking for millennia, Where is the album, Riri? Per Forbes, an estimated $1.4 billion of her fortune comes from Fenty Beauty — the publication also confirmed that Rihanna owns 50 percent of the company. Much of the rest of her net worth comes from Savage x Fenty, her lingerie line, which is worth an estimated $270 million. Bitch better have my money, indeed.
I suppose the fact that she's making bank on her beauty line is unsurprising given how rich Kylie Jenner got off her own line of cosmetics. Despite Forbes initially naming Jenner the youngest self-made billionaire — LOL and furthermore, haha — they eventually retracted the title upon further investigation. According to the latest estimate, Jenner is worth a mere $700 million. How humiliating.
So what's next for Rich Gal Rihanna? Some more little kisses with A$AP Rocky? The release of whatever music video the two of them were filming last month? More of Rihanna's essence in a bottle? Hopefully, setting a new precedent for fellow rich people and actually paying her taxes?