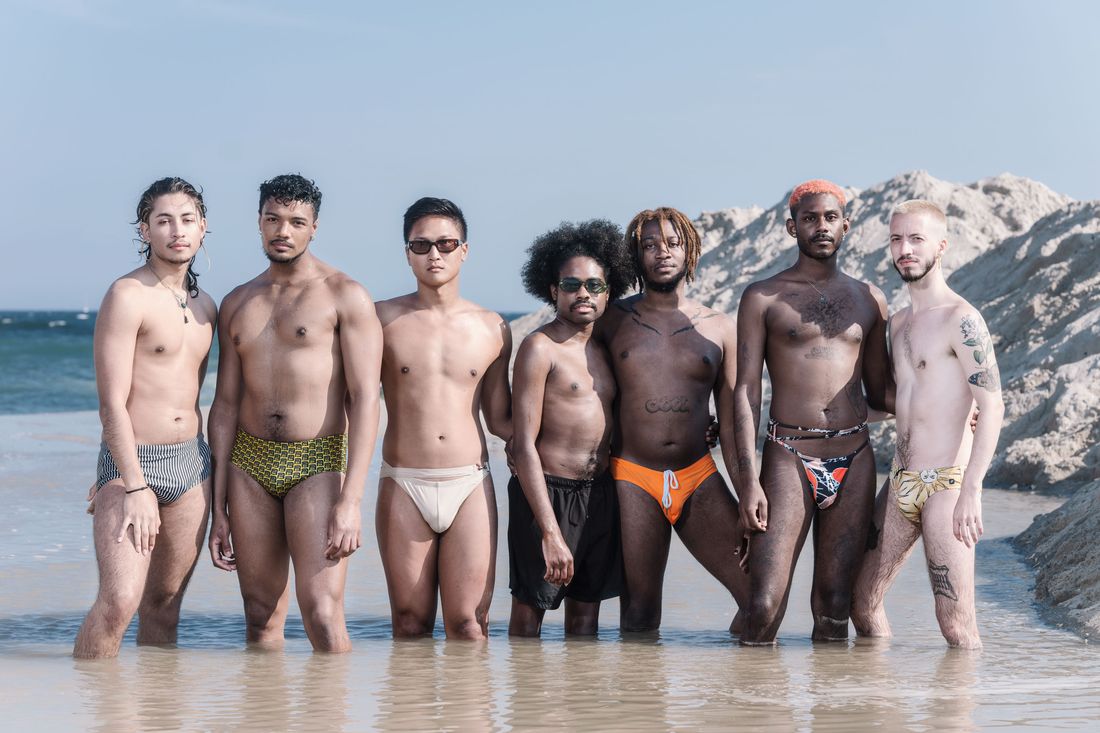 From left:
Emilio Vides-Curnen, Gobi-Kla Vonan, Jonathan Chay, Brandon Leo Beasley, Rob Dozier, Jay-Michael Wilson, and Justin Duckworth,
Brooklyn.
Photo: Wayne Lawrence
I'd lost my phone. To be more specific, I drank too much tequila, went to a party I didn't like, drank more tequila, and, somewhere between an Uber and the front steps of my apartment, lost my new iPhone. The next morning, hung-over and depressed, I make my way to Jacob Riis beach with one of my first queer friends in New York, a bag of White Claws in hand, hoping it would somehow make everything better.
Riis is the city's most democratically queer beach, named in 1914 after the muckraking journalist (then recently deceased) who campaigned (using language that admittedly can seem a bit questionable today) to improve the lives of the city's immigrant communities. It's not as easy to get to by subway as, say, Coney Island or even the beaches at the other end of the Rockaways. Instead, you need to take a bus or the ferry, or ride your bicycle, or splurge on a Lyft, or track down that one friend of yours whose partner has a car. The journey is made more tolerable by good company.
The vibe is like nightlife but with sunblock, or a block party with bodysurfing. Vendors sell weed and rum punch ("Ice cold! Ice cold!"), and before I can find a vacant spot to lie down, I notice several people I know from going out and hooking up: a boy I want to sleep with, a boy I almost slept with, and another boy I definitely slept with a few too many times. The last one is popping about from group to group in a tiny blue Speedo. Later, I remember his Grindr bio is "As seen on Riis Beach."
On the towel beside us are three topless gorgeous Black women — a couple with their favorite third — surrounded by the remnants of their fun: empty bottles, burnt roaches, and a half-eaten burrito. When I ask why they come here, they all giggle before one of them tells me, "The gays." They're all New Yorkers and have been coming here since high school. It's where they learned to be comfortable topless and where they brought their first-ever girlfriends to make out by the water. "Queers always exist at the margins," one of them says wryly; the gay part of the beach technically lies at the eastern edge of Riis Park, in front of the ruins of a tuberculosis sanatorium.
Probably someone would say that every summer is the summer of Riis, but for those of us without the wherewithal to pay for a share on Fire Island, or much desire to consort with the kind of people who can, or who have been working from home (if we're working at all) in a locked-down city, it's been more of a lifeline than ever these past couple of years — probably busier, more diverse, and sexier than at any time in its history. It's become the center of its own world. "It feels like a gem in the sense that I don't particularly think the beach is the prettiest, but I think the people are," says Abi Benitez, co-founder of Gayletter and a frequent visitor. "Every time I go, I bump into at least 20 to 30 people I know: close friends, former colleagues, and old flings that I try to avoid," says Kile Atwater, an artist who lives in Brooklyn and is among the people we met when we took this portfolio one weekend this summer. They add, "At Jacob Riis, I feel an overwhelming sense of self-love for being Black, queer, and free." And there aren't enough places like that.
We can credit the seeds of this to, of all people, the racist Robert Moses, who in the first half of the 20th century brutally demolished what he saw as "slums" and isolated a lot of Black and brown neighborhoods with highways but also had a thing for swimming. In 1932, the city built Riis Park's first bathing pavilion by the ocean, but as Robert Caro wrote in The Power Broker, the "beach at Jacob Riis Park in the Rockaways was used only sparsely, but there was reason: there was no way for a family without a car to reach it." Moses later added a mile-long boardwalk and parking. A bridge came in 1937.
And who came traipsing across? The queers. According to the NYC LGBT Historic Sites Project, it soon became a cruising spot. By 1963, the New York Times was recognizing Riis as a place "the New York homosexual" could find friends of "his kind," and a local guidebook was calling it "one of the best Gay Rivieras in the world … so crowded, nudes go unnoticed." Before the Stonewall riots set off an explosion of queer organizing across the country, the Daughters of Bilitis, a lesbian-rights group, was hosting meetups at Riis. One flyer from 1968, with an illustration of two skinny swimsuit-clad women with bobbed hair, gives a directive for an upcoming ladies' beach day: "La Femmes and others are to bring box lunches and all sorts of goodies [to auction off] … The highest bidder gets to share the lunch with the femme who brought it." After Stonewall, Riis became a site of political participation where gay activists could hold voter-registration drives on the sand.
The thing about Riis is everybody is there to look cute, but the definition of cute is not strictly enforced. Surgery scars are as nonchalantly on display as tattoos. You'd be hard-pressed to find a bar in the city at which the diverse set of queer people of all body types and gender presentations would party together. It's a horny place, but as Benitez puts it, "it's more powerful than sexual."
Over the years, there have been periodic police crackdowns on public sex and nudity. Friends who go often tell me the police presence had quieted down during quarantine, but I arrived to find several cops zigzagging furiously through the little islands of -people. At the back of the beach, there's a tall chain-link fence where people go to pee with their backs to the water. Though I watch dozens of men use the fence, the officers suddenly hound a built Black guy in a black Speedo and fine him for urinating in public. Seemingly every group on the beach has brought along some booze, but the same officers target a blonde with a shaved head and a rattail, booty shorts that read STALIN, and a doe-eyed Chihuahua and force her to pour out her beers and take the dog off the beach. Feet away sit several more dogs. Before she heads back to Bushwick, the Chihuahua owner tells me she heard about a weed dealer getting arrested on the beach the day before. When an NYPD chopper flies over, a cop leans out and waves. Half the beach gives him the bird.
And then back to the party. Balding gay guys with matching potbellies eat guacamole under a circle of Life Is Good umbrellas; others throw back tall boys under a shady tent. There are dance parties playing Latin music and other dance parties playing back-to-back Cher and Gaga. On our towel, my friend and I light up a spliff. I giggle at older men who seem like they could be my dad, if he had lived a different life, and really laugh when I watch a boy we were ogling smoke his joint like he's smoking a flute. I guffaw at a flag that is half–Pride flag, half–Old Glory and then, when I lean back, on this cloudy, rainless day, I see a damned rainbow in the sky. —Brock Colyar
Interviews by Andrew Nguyen