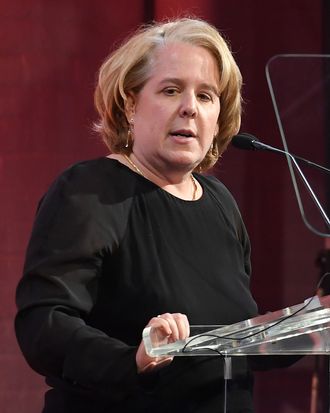 Roberta Kaplan, former Time's Up chairperson.
Photo: Dimitrios Kambouris/Getty Images
Last week, New York attorney general Letitia James released a report that found that Governor Andrew Cuomo had sexually harassed several women. Among the individuals involved in concealing the allegations against Cuomo, the report also named attorney Roberta Kaplan, the chairwoman of Time's Up and co-founder of its legal-defense fund. Now, as reported by the New York Times, Kaplan has resigned from her position at Time's Up, an organization that was founded to promote gender equity and fight sexual abuse.
"Unfortunately, recent events have made it clear that even our apparent allies in the fight to advance women can turn out to be abusers," the resignation letter reads. According to the attorney general's report, Kaplan reviewed a draft of an op-ed letter meant to attack the character of Lindsay Boylan, the first person to publicly accuse Cuomo of sexual harassment. The letter, which was part of a broader effort to retaliate against Cuomo's accusers, was never published.
In her resignation letter, Kaplan, who is best known for helping to legalize gay marriage, said her responsibilities as a lawyer are now at odds with the level of transparency being asked of Time's Up board members. "I therefore have reluctantly come to the conclusion that an active law practice is no longer compatible with serving on the Board at Time's Up at this time and I hereby resign," she writes. Kaplan represents Melissa DeRosa, one of Cuomo's top aides who is alleged to have fueled his toxic workplace, and served as DeRosa's lawyer in the attorney general's investigation. Yesterday, DeRosa resigned from her position as secretary to the governor.
Kaplan's resignation came shortly after a group of sexual-assault and harassment survivors posted a letter on Medium calling for Time's Up board members to be held accountable for their involvement in covering up Cuomo's alleged misconduct. "TIME'S UP has abandoned the very people it was supposed to champion," the letter read. "The board continues to fail to heed the outcry from survivors. Time's Up is failing all survivors."