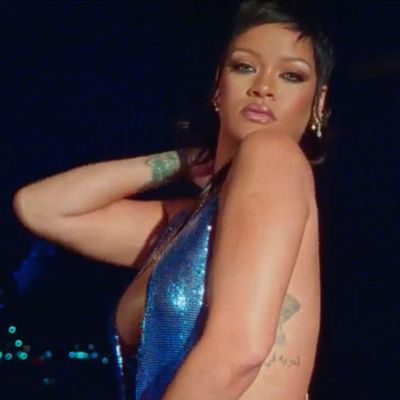 In recent months, Rihanna has been a beacon of good news in an otherwise quite depressing climate. This year alone, she's protested anti-Asian hate, become her own neighbor, brought back her pixie cut, got officially booed up, launched the first Fenty perfume, and, to top it all off, become the only acceptable billionaire. And it appears she is not done blessing us with positive developments: Today, Amazon Prime Video announced that the sexy and star-studded Savage x Fenty Show, volume three, will be available to stream starting September 24.
In a press release, the brand said the show will feature a "subtle yet impactful" combination of fashion, dance, music, and architecture. Rihanna also dropped a teaser on her Instagram in which she wears a very 2000s teal metallic halter top while seductively dancing to a bass-bumping track in what appears to be a cool high-rise somewhere in Los Angeles.
Not much has been revealed about the show, but if volume two is any indication, it's going to be major. Last year, some of the world's most beautiful people were featured in Savage x Fenty lingerie, including Bella Hadid, Lizzo, Normani, Demi Moore, Shea Couleé, Willow Smith, Rosalía, and Cara Delevingne. In regards to performers, the brand has been tight-lipped, saying only that there will be "special performances from some of the biggest names in music."
But if there's one thing to be certain of, it's that Rihanna will continue to redefine sexy by presenting true inclusivity — with every body type, gender identity, age, sexuality, and skin tone represented onscreen. Plus, the Savage x Fenty show is always simply a lot of fun to watch.
Watch the teaser below, and mark your calendar.