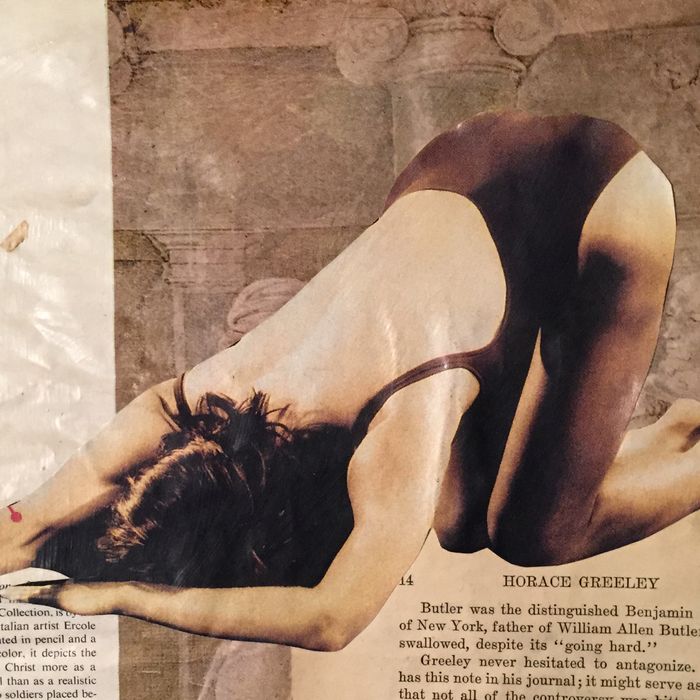 Photo-Illustration: James Gallagher
This week, a nonprofit worker hooks up with the friend she met on Feeld, a guy with a girlfriend, and taking sexy videos for her Reddit page: 22, single, Washington, D.C.
DAY ONE
8 a.m. I'm a project coordinator for a health nonprofit in D.C. I work from home. Most mornings I take my time making a fancy bagel or some oatmeal with fruit.
9 a.m. Tonight I have my first hangout with Noah after an awkward one-drink date and blowjob three months ago. I've been teasing him with pictures ever since, but he's back with his ex now in a "don't ask don't tell" relationship. I don't ask what that means.
11 a.m. When I tell my roommates I have a date tonight, I intentionally don't say that it's with a man who has a girlfriend.
9 p.m. When I get to Noah's, he ushers me in like he doesn't want his neighbors to see. I can tell from his eyes he's already baked. We move on quickly and he hands me a vibrator with confusing settings. While we hook up, he's really quiet and high. He also turns off the playlist I put on when a too-romantic song comes on. I hate silence during sex. He comes pretty quickly which also annoys me. I can't get off with the vibrator he gave me because the situation was a bit stressful. Thankfully, he laughed at my jokes after we finished, which was a good substitute for cuddling, and it ends on a slightly better note.
11:39 p.m. Noah doesn't buy my Uber home and I'm bitter. I debate whether to be the bigger person or send a Venmo request, which his girlfriend might see.
1 a.m. I realize I left my umbrella at Noah's house. Smart if I wanted to see him again, but now I'm extra pissed.
2:21 a.m. I light sandalwood incense and pull out my journal to clear the negative energy from my body, swaying in my underwear while ash falls on my rug.
DAY TWO
10 a.m. I click around on my computer, water my plants, and go down random ecology rabbit holes on the internet.
12 a.m. Long day of work and lots of calls. Can't wait until I can do something more fun later.
7:55 p.m. I put on my smallest shirt and snap a video. I recently started a NSFW Reddit page at the suggestion of A, my absurdly tall (6'8") Feeld hookup who bears a shocking resemblance to Jason Momoa. I jokingly call him my "slut consultant."
9:30 p.m. I sip a mojito and watch the Bachelorette get her heart broken by a generic-looking white man. I tell A to come over and fuck me tomorrow. My main motive is being out of weed because I know he'll bring some, but I'm also curious to see what his dick looks like in the daylight.
11:16 p.m. I hate to admit that The Bachelorette puts me in my feels, but here I am listening to gentle music and trying to remember what it felt like to be in love. I hover between Hinge and Bumble and get so bored of the clientele I switch to Lex, a queer dating message board. The saturation of IPA-lover-hiker-dog-owner bros is maddening in this city, but somehow women are harder to sift through. I message one girl about fungi, another one about skating. I probably won't respond once they reply.
DAY THREE 
9:45 a.m. My stomach churns on cold brew and antibiotics from an inflamed tonsil last week.
10 a.m. I steel my stomach with cereal. I look up "caught cheating" videos on Pornhub and grab my pink vibrator, but the caffeine anxiety hits and I can't climax.
10:45 a.m. I greet A wearing a crotchless thong, a butt plug, and the same ultra crop top from the video. Five minutes later, he's fucking me on my balcony, taking pictures with his free hand. From here I can see the house my friend just moved into. I hooked up with him in the winter, but I've been avoiding him since. After A finishes (I don't), we cuddle and review pictures. In my favorite one, I'm drenched in sunlight, crawling out onto the balcony, thighs thick and defined.
7 p.m. I throw kitchen utensils into a tote bag and drive to H's, my friend from a mutual-aid organization we volunteer for. We're having a dinner party.
7:30 p.m. J arrives for dinner wearing a neon Nike shirt. His full-sleeve tattoos and nice height still make up for what he lacks in style and I feel my stomach drop. He chops cucumber while H makes rice. I whisk the sauce and try my best not to be a backseat cook. The cheap wine I got from a corner store flows freely.
This is my first time hanging out with J socially. We first met a few weeks ago at a mutual-aid thing. We're wary at first, but relax over discussing music and dessert preferences, our hometowns, and finding value in work. I'm relieved to hear he smokes weed.
10:30 p.m. J takes my offer for a ride home and in the car tells me he recognized me from Tinder but was too shy to say anything when we first met. I tease him about how he stopped replying when we matched in February, but he reminds me that I ignored him for two weeks at the beginning of the conversation. When he says good-bye, I think I catch something in his eye, but it might be wishful thinking.
1:15 a.m. I fall asleep listening to my romantic-sex playlist.
DAY FOUR
11 a.m. I bake a cake. I'm stressed about a major project I am not well-trained for and baking helps me relax.
6 p.m. My roommate V and I bring our roller skates to a local park, where we meet another roller skater and follow her on Instagram. I chat up an elderly trumpet player and almost run into a biker as I coast down the concrete. Skating helps me successfully separate from the world for a moment.
11:45 p.m. I try to organize a foursome with A and a couple he's hooked up with before. Group sex is the main slutty girl summer activity I want to tackle. I'm fantasizing about being fucked from the back while I eat out the girl when A texts back that he's working this weekend.
DAY FIVE
10 a.m. Get lost in hours of Instagram scrolling.
2 p.m. I go to a café with no Wi-Fi and don't have a personal hotspot so I journal instead of working and gaze at the hot people around me. I sweat through my thin dress and can't make it more than an hour in the heat.
3 p.m. Job-hunting in bed listening to punk rock.
8 p.m. I have a free night for once and my roommates are out, so I treat myself to a solo date of mushroom ravioli, local beer, and a joint. I try to read but I get too high and go through my Hinge likes instead. I pause my profile after struggling to make decisions on 18 different people.
10 p.m. I hate being alone after living with roommates for so long. If I don't have constant distractions I spiral into my thoughts quickly. I remedy this by making a strawberry milkshake and having a dance party while I reorganize the kitchen.
DAY SIX
3 p.m. I haven't seen my therapist in three weeks but I'm here now. I promise to try to smoke less before bed and to work on a song I'm "writing" that's stuck in my Voice Memos.
5 p.m. I pull up to a mutual-aid dinner sweaty with wet hair. I double-lock my bike and J and I chat with the other volunteers. We banter a little but I can't tell if it's flirting. We laugh about both being drunk cigarette smokers and sneak glances at each other across a prayer circle a fellow volunteer leads. As we leave, he yells, "We should hang again! I'll text you."
9 p.m. I grab beers with V, one of my roommates, and a college friend who just moved nearby. I came to this bar last week with a Michelin-star chef who wanted to double-team me with his friend. He talked about himself way too much but it was amusing. He came too quickly and not on my tits like I asked him to. My friend relays stories from the hospital where she works. She sees rough shit every day, but the way she lights up when she talks about her work is beautiful. She mentions she's queer, which I never knew. I need to start assuming people are queer until proven straight.
DAY SEVEN
2 p.m. V and I have a lovely morning: a sidewalk sale, a brunch of pupusas and plantains, which I successfully order in Spanish. I buy three new plants and call my mom. I make a carrot cake and suddenly hit a slump because I'm alone again on a Saturday.
I decide to text E, who I saw on Hinge recently, but who hooked up with two of my friends. I send a picture of my apron that says "the hottest thing in the kitchen!", tied to accentuate my chest. After getting a little high, I feel guilty about the idea of hooking up with him when he was weird to my friends. Ghosting E will be the revenge he deserves.
8:45 p.m. H and I meet at a bookstore, where I browse the urban farming section while she reads The Communist Manifesto. We smoke in the park, which leaves me feeling serene. She asks to follow my NSFW Reddit but I'm shy about the content I'm posting.
After lemon hookah and vegetarian curry, we end up at a Latin club. We get bored of the upstairs reggaeton floor after one gin-and-tonic, so we traipse downstairs to the salsa/bossa floor. We just planned to watch, but we both quickly get pulled into the circus of arms and rhythm. H dances with a married guy and I use my Spanish for the second time today with a 36-year-old Dominican man. We make out and he tells me I'm a good dancer, begging me to stay longer but I'm in a never-ending night mood. He walks by me later as I smoke a cigarette outside of a taco joint with a couple of strangers. The night ends with H and I hitting the bong on my balcony, drinking tea, and talking about romance until 4 a.m.
Want to submit a sex diary? Email sexdiaries@nymag.com and tell us a little about yourself (and read our submission terms here.)
And if you want to apply to be cast in the docuseries, please read the submission terms here and email sexdiariesdoc@nymag.com.