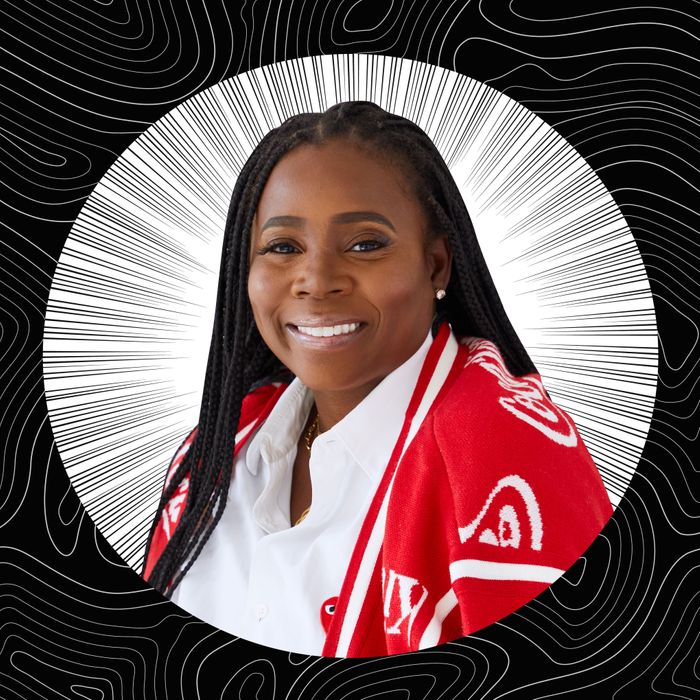 Photo-Illustration: by The Cut; Photos: Jatinder Channa, Getty Images
There's perhaps no better example of a multi-hyphenate than Sharifa Murdock. The "mother of menswear," as she's been dubbed, is the chief of people and culture at Kith, the co-owner of trade show Liberty Fairs, and the CEO of "festi-con" ENVSN. Her illustrious career was born out of hard work and a deep belief in herself: "I'm very accepting of who I am. For so long, the fashion industry has wanted a certain type of person, and I've been down that road, but I am never going to change. This is who I am, you either take me or you don't."
Murdock's on a mission to share her philosophy with other young women through ENVSN, which she calls her "love letter" to her younger self, and the Brooklyn Intern, her mentorship organization. "I speak to a lot of young women about that — not trying to be who people want you to be," says Murdock. "There's so many opportunities that women of color don't get, so it's important for me to reach back and pull up other women and empower them to know that they matter and that they have a voice."
Below, Murdock shares how she stays on top of wellness through an ever-busy schedule, including the ten-minute exercise she does every day, where she goes to unwind, and the game-changing app on her phone.
How her definition of wellness has evolved: I used to be in this space of "just working out and trying to eat healthy is wellness." Now, wellness means being my authentic self and being in a happy space both physically and mentally.
What COVID did was push me a little bit more. I love my job, and I love my profession, but before COVID, we were all putting 1,000 percent of our life into our jobs. During COVID, what we realized is all those things that you value could be taken from you at any time, and what I personally realized is that what I value most are my happiness and my calmness. Before, I felt like I was running, and now, I'm kind of doing a nice walk, if that makes sense. If you're keeping yourself so occupied that you can't pay attention to whatever you're doing, you're not happy, just busy.
For example, in New York, when you're driving, everyone's beeping their horn. In New Jersey, where [my husband and I] have now moved, everyone's moving at their own pace. Everyone is going really slowly. My husband is still like, "Why are they not moving?" I'm like, "But where are we going? We're going home. We're not going anywhere." And he's like, "No, but they need to move." And I'm like, "Why?" We start having those kinds of conversations, and after a while, he'll get it, but he still has his New York road rage.
On moving during the pandemic: My family was kind of dispersed at the beginning of the pandemic. My grandmother was in Trinidad, my mom was in Brooklyn, I was on the other side of Brooklyn, and I felt like I needed connectivity. I ended up moving to New Jersey and buying a house because I wanted to make sure that if we ever had to go through that process again, we would all be okay.
Me and my husband were looking for a house before COVID, and then the pandemic ramped it up. As soon as COVID started, I was like, "I cannot do this. I need space." I lived in a really beautiful building — I still own the apartment — but during the height of the racial reckoning protests and all the stuff that was going on in Brooklyn, after a while, it became draining for my energy. It was too much to handle, and it was better for me to move out further. Number one, for space. Like, if we're going to be in the house all day, the house needs to be very comfortable. A two-bedroom, two-bath apartment is not it. I was walking around in the same square, and it's not what I wanted to be doing for another year.
People laugh at it, but being outside and having the sun hit your face or even having that moment to breathe outside is important. I was living in a high rise, and the windows don't even open the way they're supposed to — they only open so much — and I needed air. I didn't need people around me. What I needed was that sense of "I can walk around my backyard and know that I'm in a safe space. I can bring my grandmother to my house and know that I'm in a safe space." That was what the move was about. It was ultimately about my well-being.
On how she starts her mornings: I've always been an early bird, so five o'clock is my wake-up time. I take a minute, I sit down, I drink water, I drink my pre-workout shake, and I meditate in my own way. Then I say a prayer. I speak to my grandmother, my mom, and my sister — it's a three-way call — every morning. These are things that weren't happening before. Then I work out, and after that, I get in my car and head to work.
I have breakfast later in the morning when I get to work and get myself settled, around ten, maybe nine o'clock. Normally, I will have yogurt and granola or hot vegan cereal that I would make and bring on my own, but lately, for some reason, I have been so naughty, and I've been going from bagels to bacon, egg, and cheese sandwiches.
On her drive to work: I'm no longer riding for 15 minutes; it's like a full-on hour now. One thing that I implemented is listening to audiobooks. I suffered from dyslexia as a child, and I realized that I read without comprehension, meaning that I can read something over and over again, and I'll be like, "What's happening here?" What I've done is I've gotten into audiobooks, and I try to listen to one book a month. I thought to myself, You've been so busy working that you're not even reading, and that was really sad because I wanted to have discussions about books. I wanted to be able to talk about and then articulate how I felt about a certain book. I'm so happy for my drive because I get engulfed in these stories.
My August book is The House of Gucci: A Sensational Story of Murder, Madness, Glamour, and Greed by Sara Gay Forden because the movie is coming out. Books are always better than the movies, so I want to read the book and get that experience.
On learning to block out other people's energies: My job is very taxing on the body. I'm speaking to many people, and I'm a person that takes on energy, so if that person's feeling sad, I feel sad, too. When I lived in New York, I still drove to work because when you get on the train, you start taking on people's energy. You get on the crowded train, and then the person next to you is upset, and then everyone's upset, and then you become upset for no reason, and you're like, "Wait, why am I upset right now?"
As I've gotten older, what I've realized is that it's their issue, not mine. I try to get myself spiritually connected before I come into work — that's why that ride is important to me. So if I'm not listening to a book on the drive, I am definitely listening to gospel music in the morning. I have one playlist that I listen to, and it gets my spirit up, and I get pumped to come into work.
On how she moves: My girlfriend Rajni Jacques put me on to this trampoline. It's just a mini-version of a regular one. We had dinner one night, and I was like, "You look amazing, what have you been doing?" She sent it to me, and she was like, "You need to get this," and I bought it right away. Someone said if you jump on this trampoline for ten minutes, you're running three miles because it is draining. I mean, have you ever tried to jump on a trampoline? It is insane. It's kind of like if you're jumping rope. Have you ever tried to jump rope for ten minutes? I can't even do that.
I know everyone is on this Peloton craze, but I am not a Peloton girl. I bought one in the beginning of the pandemic because I was paranoid. The gym in my apartment building was closing, so I bought all this gym equipment — my husband thought I was going mad. Then I got on the Peloton bike for all of five rides and was like, "No, I'm not doing this," so I got rid of it.
I used to run track, so I ran on treadmills and ran in the street. I didn't feel comfortable running outside at the onset of the pandemic, so I bought a treadmill, and I love it. I start with a ten-minute warm-up, and then I'll run for nine minutes, and I'll work my way down like that. You have to be mentally in that zone, and it's interesting because lately I've been in this space where I can't get it together, but you have to just train yourself. I think to myself, "I have way too much clothing to gain any more weight." I think about the clothes that I can't wear, and that motivates me.
I also got a Tonal. It's like a mirror with magnetic weights. It is amazing. It's more strength-based training, and since I'm trying to shed weight, I do more cardio, but I use the Tonal probably twice a week.
On holding herself accountable: You get in these plateau phases, and you need to find something that is going to motivate you. We all go through it. I'm telling you, I go up and down, up and down, and I'll go hard for six months, and then one day, I'll wake up and be like, "Okay, I need a bagel."
I have a group chat with my girlfriend who moved to L.A. (she's a trainer) and my other girlfriend that used to live in the building where I moved from (she and I used to work out in the mornings together). If I'm in the gym in the morning, I'm like, "Hey ladies, I'm in the gym, I did this, this, and that. It was crazy." And then they will be like, "Hey, I'm in the gym, too." Find your little group that helps push yourself.
On the key to holding multiple jobs: You start pulling yourself all over the place, you're like an octopus, and for me, hiring help and having someone that keeps me organized is essential.
[My business partner and I] have owned Liberty, our trade show, for six years if I'm not mistaken. I hired Edwina Kulego, a young woman that I actually trained. She was my intern, and she's now the new VP. I have meetings with her weekly, and she understands what my vision is for the trade show, and she has now hired her own team.
With ENVSN, I hired this talented woman named Jizelle Saanta. With trade shows, it's kind of business to business, but with a festival, it's more business to consumer, and she taught me a lot about what I needed to know about that landscape.
I'm at Kith daily, but I also have a lot of meetings in between, and the key there is a great assistant.  I just got a really good assistant — her name is Kimberly — and she's the glue that  keeps things together. She's talking to all the partners, whereas I just need to attend the meetings.
I'm not computer savvy, and Kimberly, she taught me about [Google] Keep, which is essentially a checklist. We share Keeps, and now I'm much more on top of things because I know to look at that. I love having pretty notebooks, but Keep really helped me because I can look it up on my phone.
On her eating habits: I am an everything eater — well, I'm allergic to shellfish, and that's the only thing I can't eat. My husband's a chef. He cooks every day, and one thing that he loves to do for me is cook me dinner and lunch, so I will always try to bring food to work. The only day he does not cook is on Fridays, and that is when I order food. I hate cooking — the only thing I do like making sometimes is breakfast, but my husband still makes that better than me, so I'm like, "What's the point?"
On skin care: There's this thing called Albolene, and since I was a child, my mom made us lotion our entire skin with it. It has a blue top, and you can get it at Duane Reade, CVS, anywhere. When I got older, I'm looking at the TV, and they have a commercial for it, and they call it a makeup remover. So I call my mom, and I'm like, "You've been making us put makeup remover on our skin this whole time?" And she goes, "That's why we have great skin." I have no idea who gave my mom that advice, but then I became that person, too. Now everyone always says to me, "You have such amazing skin." I don't use a bunch of products on my face — other than Albolene, it's just soap and water. It's the funniest thing. My friends always laugh about it. They're like, "Did you put Albolene on?" [Laughs.]
On her guilt-free indulgence: If I could lay in a massage chair or a bed for the rest of my life, I would do so. I don't know how to relax, I get really bad migraines, and I'm always tense — my husband says this all the time. So I'm a massage junkie, and it's a weekly thing for me. I buy every massage tool. Everyone's like, "Oh, did you get the massage gun?" Trust me, I have the gun. I have every massage tool possible. I also go to every spa — I need to have a whole blog or Instagram about spas. The best one might be AIRE Ancient Baths, but a girlfriend of mine put me on to a new space, the Shibui Spa at the Greenwich Hotel, so I need to go there before I can make the final decision.
Recently, as I moved, I bought a sauna. It came the other day, and I now need to figure out where in my house I can put it. My girlfriend came over the other day [and] she was like, "This is insane. Did you really need that?" I was like, "Yes, because I want to be my most relaxed self always." She just looked at me and then asked my husband, "You just allow her to do anything, don't you?" He was like, "I have nothing to say about that." [Laughs.]