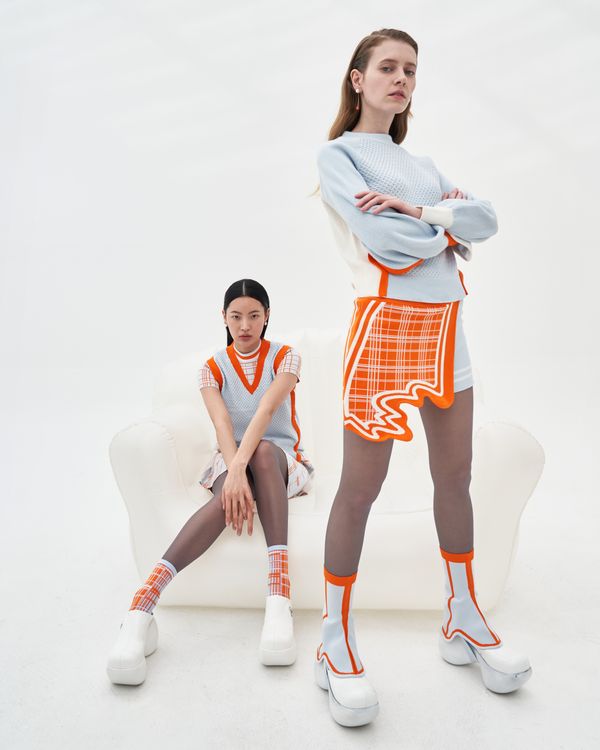 Why is it that the grass is usually greener on the other side, even when it comes to the clothes? After weeks of sitting behind a laptop in my Brooklyn apartment, I finally managed to make my daydream (of lounging by the pool in designer clothes) a reality and traveled to the land of 90 percent humidity and BBLs: Miami. But after a period of seeing nothing but beach-bum attire, I'm starved for style. Luckily, my timing is perfect. Fashion month is quickly approaching and cooler September temps are imminent. So … what to wear?
Last year, answering that question was pretty simple: loungewear everything! Now, we have to consider how we're going to dress for the fall if we have to, you know, actually be around other human beings. My suggestion is PH5's fall 2021 collection, which debuted in February and is finally available to purchase this month.
Zoe Champion and Wei Lin, the respective designer and founder of the knitwear brand, are known for their complex and technically sophisticated pieces. This isn't some knitwear line started by a Bushwick-based Parsons undergrad, although PH5 does flirt with gender-neutral designs that skew slightly feminine. However, Champion uses computer programming to create intricate patterns and architectural forms, with 91 percent of the materials used being consciously sourced. For fall 2021, vibrant colors like powder blue, orange, Kelly green, lavender, and yellow mix with graphic shapes and futuristic touches — like wavy hemlines on the skorts pictured above that I'll surely be wearing all fall.
While away from her home in New York and under lockdown in Sydney, Champion found inspiration in the comfort of sinking into her surroundings, creating designs using pillows to make shapes on the body. "Fall utilizes quilting techniques and pillow-shaped padded pockets as a way to take our interiors with us — a sort of tactile crutch, or cozy armor," she said in a statement. "The distorted jacquards became a way to play with the draped shapes I was creating with blankets and are perhaps reminiscent of familial blankets or furniture. For this particular season I wanted to take all of the comforts of my interiors outside, but in a way that encouraged me to dress up and begin engaging with the outside world again. With the support of my partner Wei, I leaned in to what I was experiencing and channeled that into this collection."
So we might not be completely locked inside this fall, but it'll still be nice to bring some coziness with you while you're out there being perceived. Shop the PH5 fall 2021 collection here.