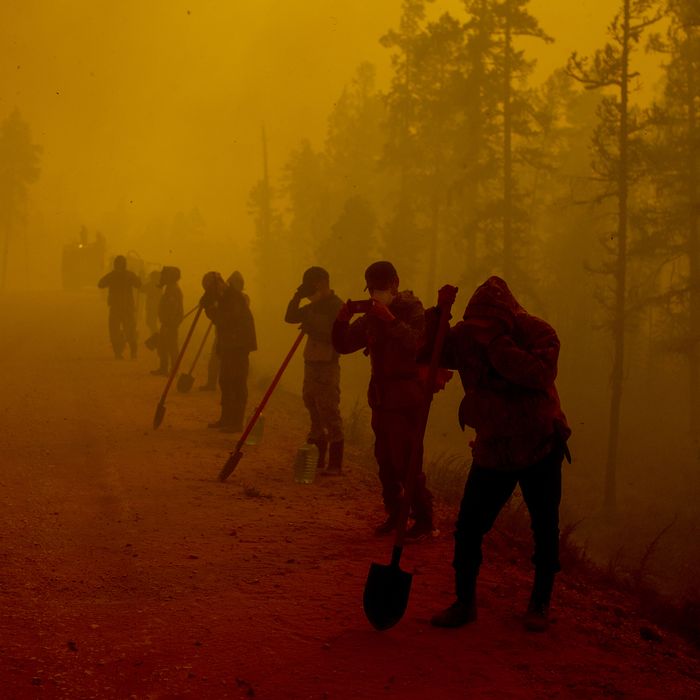 Wildfires in Yakutia are choking the region with impenetrable smog.
Photo: Ivan Nikiforov/Anadolu Agency via Getty Images
On the heels of a harrowing climate-status report, here's another reminder that the global outlook is extremely grim: Smoke from wildfires in Siberia — a punishingly frigid region that has recently weathered uncharacteristically hot temperatures and drought — has drifted all the way to the North Pole, for the first time ever. According to NASA, that's 1,864 feet from Yakutia, the smoke's primary source. Two villages in Yakutia, the largest and (at least in the winter) coldest part of Russia, were evacuated by a regional task force over the weekend as crews worked to contain 155 blazes.
According to a news release from the agency, "a vast, thick, and acrid blanket of smoke," visible on satellite imagery, spread out across Russia on August 6. It measured about 2,000 miles from east to west, and 2,500 miles north to south, sprawling out over parts of Mongolia, Canada, Nunavut, and Greenland.
The smog is reportedly so dense in some parts of Yakutia that it blocks out the sun, and per Reuters, the fires there have emitted a record-breaking 505 megatons of carbon since they began burning in June. Though the region has historically experienced wildfires during summer — it's home to vast boreal forest, or taiga — the scale of those that have ravaged Yakutia in recent memory is nowhere near normal. According to The Guardian, global warming means Yakutia's summer temperatures have risen more than twice as fast as the world average, melting permafrost and kindling massive infernos. Last month, the choking smog created an "airpocalypse," meaning hazardous health conditions for everyone.
Photos and video footage from the fires paint an indelible picture, yet the eerie orange skies and flame walls don't look all that different from the landscape in Western U.S. This is precisely the kind of extreme weather event that, according to Monday's United Nation report, will become increasingly commonplace if universal, transformational action is not taken to curb global emissions, immediately. We have not totally screwed the climate quite yet, but we are (as WWF's chief climate-change adviser, Stephen Cornelius, put it to The Guardian) "on the brink of irreversible harm," and almost out of time to pull back.