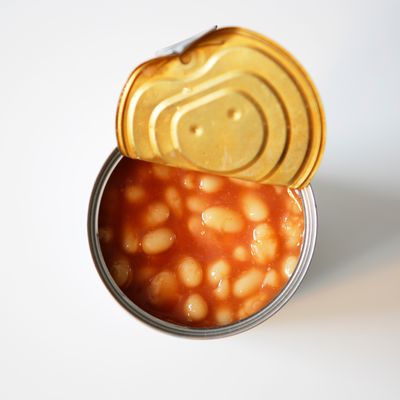 Who threw the beans?
Photo: Getty Images/iStockphoto
In what may be the most British crime news today, someone is reportedly terrorizing a town in the U.K. with beans. BEANS. According to a Facebook page run by the local police department, there have been reports — yes, plural — of homes and cars being vandalized with dumped-out cans of beans. Quite cheeky, innit luv?
"Local officers have received reports of incidents in Wonersh where beans and other food has been poured onto residents' front doors and cars overnight," the post from last week reads. "The victims are understandably distressed by this unacceptable behaviour." Please, stop bullying the neighbors with your baked beans!
It appears the bean bandit is still on the loose as police are asking people on Facebook to report any information "if something similar has happened to you" (i.e., you have awoken to a doorstep bestrewn with beans). In the meantime, "Local officers will be patrolling the area and keeping an eye out for anything suspicious." Imagine, if you will, a squadron of officers on the lookout for sneaky bean activity. Perhaps they will bring some toast and make a breakfast out of it.
This is somehow not the first bean-related incident to hit Britain. Last September, someone was reportedly vandalizing playgrounds with beans, plopping piles of legumes atop swings and other playground equipment. It seems that beanboozler got away with it, so … it could be the same person? Do we have a serial bean dumper on our hands and front porches? Better gird your garbanzos just in case.