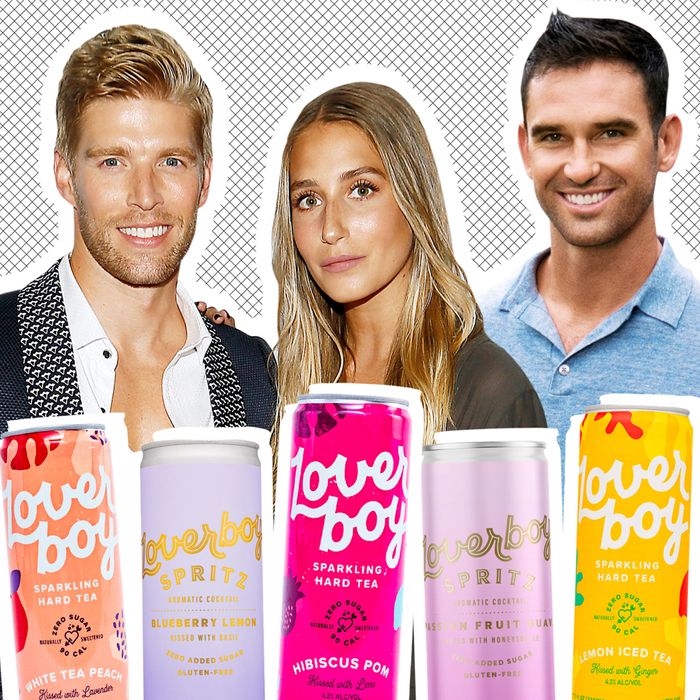 Photo-Illustration: The Cut; Photos: Getty Images; Loverboy
From Sonja Morgan's toaster oven to Bethenny Frankel's Skinnygirl, launching a brand has become a rite of passage for Bravolebrities. Viewers have seen (and bought) it all, from Craig Conover's pillows (Southern Charm) to Hannah Ferrier's insect-repellent fans (Below Deck Mediterranean). Not to mention the flops, like Teresa Giudice's short-lived peach sparkling wine, Fabellini, cases of which are surely somewhere in a Paterson, New Jersey, warehouse, seeping into our water supply. Or, famously, SHE by Shereé, which viewers saw go from a "fashion show with no fashions" in season one of The Real Housewives of Atlanta to phantom "joggers" set to be released in "September, spring, summer" in season ten.
Even so, Bravo fans will flock to get their hands on the novelty of Karen Huger's La'Dame perfume or a Brooks Marks tracksuit — wearing them the way an NFL fan wears a jersey. Launching a brand has become such a common trope that the network has taken note and, after Frankel sold her company for a reported $100 million, now includes a "Bethenny clause" in contracts that cuts Bravo in on a brand's success.
Although few of these products break through the Bravo bubble and into the mainstream the way Frankel's Skinnygirl has, Loverboy is joining those exclusive ranks. The sparkling hard tea comes from Summer House's Kyle Cooke, Amanda Batula, and Carl Radke, who have been putting their drunken weekend antics in the Hamptons on display for five seasons now. The past three seasons have documented Loverboy's inception by Cooke and Batula, who, after noticing the free exposure they were giving other alcohol brands, set out to make a drink of their own that was tastier than a hard seltzer but healthier than a Twisted Tea. The couple was soon joined by Radke, who now holds the position of vice-president of sales; he and Batula have both quit their day jobs to join Loverboy full time.
Available in nearly 15 states, on the shelves of retailers like Whole Foods and Target (and with a social following greater than its competitor Truly's), the brand has transcended the Bravo fandom, meaning someone with a Hibiscus Pom Loverboy in their hand may not even be privy to the latest fight its founder got into with his Hamptons housemate. The entrepreneurial trio talked to the Cut about reality-TV stigma, their booming merch line, and using their Bravo platform to create a business that can stand on its own.
When you decided to go into this business, were you gearing it toward Bravo's built-in audience?
Cooke: It's less about Bravo's built-in audience; it's really today's consumer. But it also coincides with who's buying these progressive adult beverages, right? I looked at all the consumer data, and women are pretty underrepresented and underserved in alcohol. And then here we are on Bravo, the No. 1–rated network among women. That was when it all started to click. I mean, if Carl and I were left to our own devices, we would have made some bro-ey seltzer called, like, Send It, but it was looping in Amanda as a target consumer and saying, "What kind of brand would you like to see?"
Do you watch other Bravo shows and take note of what kinds of products work with this audience and which ones fall flat? 
Batula: I'm a huge Bravo fan. I think it's obvious that the overall theme of a lot of these businesses that do flop is that they're products that already exist that these women and men are just slapping their own label on instead of completely embodying what the brand is, which is what we do with Loverboy. I don't put anything out there unless I would drink it myself. And as Kyle will tell you, I'm probably the hardest critic and give the most feedback.
Cooke: I think when you're actually building something instead of slapping your name on something, people are going to root for you. Because why go support a celebrity if they're not even running the brand?
Do you think getting to showcase the behind-the-scenes of the brand — everything from the business successes to the knock-down, drag-out fights — creates a stronger connection with your consumer in a way traditional marketing can't?
Cooke: Absolutely. And we actually do a pretty bad job. We're so busy. We don't show enough of it, and Bravo, they don't want to turn it into a Loverboy commercial. So there's only so much of our work lives that they show. But the more we can show, the more loyalty we would actually foster, just because people would appreciate the hard work.
It's like instead of having the little "Our Story" blurb on the side of a can, you have 15 episodes a year and people can watch it.  
Cooke: It's so true. We actually go back and forth, like, Should we tell our story on the cans, or should we just point people to TV?
Obviously, the product is an organic part of your story line, but how much of its placement in the show is strategic marketing? There seem to be a lot of games that involve those cans.
Cooke: Anytime it feels deliberate, Bravo will literally stop us in our tracks because it needs to feel natural. Sometimes I'll be wearing a Loverboy shirt, and they'll be like, "Kyle, do you mind changing?" I'm like, "Sure." I don't want people thinking Bravo's in cahoots with us. We have to be cognizant of it. This isn't a show about Loverboy; it's a show about a group of friends.
It has been reported that Bravo will include what's referred to as a "Bethenny clause" in its contracts, giving the network a percentage of any businesses promoted on the show. Is that happening with Loverboy? 
Cooke: It is a real thing because, you know, Bethenny, for lack of a better way to put it, kind of pumped and dumped that thing in two years. She built it on the back of RHONY and then sold it. The Bethenny clause has never been actually executed [that Cooke is aware of]. It's in everybody's contract since the sale of Skinnygirl, but I don't know if anyone's built anything of significance since. The network's not in the business of trying to be equity holders of an alcohol company.
Last season, we saw how your merchandise became a huge part of the business. Do you think that's something that would normally be a big part of a brand like this, or does it come more from the show's fandom?
Batula: I think it's a mix of both. We've always wanted it to become a lifestyle brand. We wanted it to be more than just our teas, and we created a family. People have gone absolutely crazy for the merch. I love sweats, so I've been creating stuff for me that I want to wear and it's really resonated with our customers.
Cooke: The most successful merch pieces are the pieces Amanda designed from scratch just based on what she wanted. Just to put it into perspective, we sold $200,000 worth of merch over the weekend. Show me another brand doing that. Alcohol is an industry where the suppliers have to give away the T-shirts at the bar.
I've had the experience of seeing someone with a Loverboy and trying to strike up a Bravo conversation and they have no idea what I'm talking about. Have you been able to get a sense of how much of your clientele comes via Bravo and how much from elsewhere?
Radke: Kyle and Amanda really wanted to create a brand that could live on its own. And, you know, I definitely see that a lot now; more and more, people have picked it up at a barbecue or had a friend recommend it without even seeing Summer House.
Cooke: That's when we look at each other at an event and high-five each other when someone gets introduced to Loverboy and they're there supporting us and they don't even watch Summer House. That's the best feeling.
Do you think Loverboy has had to overcome a stigma from being part of a reality-TV show, albeit a very entertaining one? 
Cooke: I think reality TV as a whole still has a stigma. We certainly had to work past that. You know, I've got my M.B.A. — a lot of people thought I was crazy to do reality television, but if you play your cards right, it can become a platform. And the question is, How are you gonna utilize it? I looked at Summer House like half shits and giggles. Like, why not film something we were already doing, going out to the Hamptons? Then, if it's successful, I'll find a way to leverage it. And sure enough, it became very obvious what the opportunity was.
Radke: I definitely have guys all the time that go, "Oh, I don't give a crap about Bravo," and then two seconds later a girl will stop me on the street and freak out and want to take a picture — that gets their attention.
I'm sure we'll be seeing more of Loverboy on your upcoming (insanely titled) spinoff, Summer House Winter Charm, but besides that, what does the future look like for the brand?  
Cooke: Hopefully, by summer of next year, every major metro will have Loverboy. We have direct-to-consumer cocktails — currently, spritz and our espresso martini, which we just brought back. We're breaking through the bubble and trying to turn this into a mainstream brand, not just among Bravo fans.