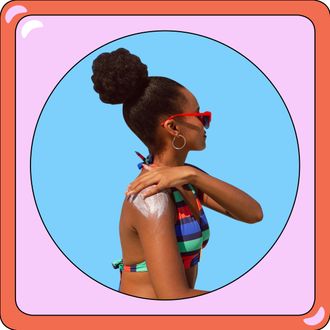 Photo-Illustration: by The Cut; Photo: Getty Images
If you haven't heard it enough already: Yes, you still need to wear sunscreen even if you're Black. There are a lot of misconceptions around this topic, but having melanin doesn't exempt you from potentially getting skin cancer, and sunscreen aids with several other skin concerns, including hyperpigmentation and wrinkles. Whether you're applying it as a moisturizer, a primer, or a classic sunscreen, wearing SPF daily is a must. (Even if you're not going outside — blue rays from cell phones and laptops can be damaging too.)
Finding a sunscreen that works for your skin type and leaves the finish you like can be challenging. And if you're Black, add to that finding an SPF that won't leave you with a white cast. We've all been there — you try to do good by your skin, but after rubbing in a popular sunscreen, you look like a ghost, or even worse, ashy.
If you still haven't found the perfect SPF, here are some brands tested and beloved by my brown skin. The last thing I do is walk around ashy, so trust and believe, these do the job well.
For an Instant Glow
I've replaced my favorite dewy moisturizer with this sunscreen. It leaves my skin with a radiant glow, not even a hint of a white cast, and the best coverage. If you're into "glazed donut" glowy skin, you'll love this.
The Hydrating One
Photo: Retailer
This sunscreen is so lightweight it sometimes runs off my hand before I'm able to apply it. But the blend of antioxidants gives it a seamless finish, leaving my skin 100 percent more hydrated. I top this with my favorite face mist and I'm good to go for the day.
If You Want Something That Doubles As a Primer
Photo: Retailer
You should wear sunscreen under your makeup, but the wrong sunscreen mixed with the wrong primer can leave your skin feeling and looking greasy under foundation. If I'm wearing makeup on a hot day, I always opt for this sunscreen for a silklike feeling.
The Luxury Option
Photo: Retailer
If I'm spending over $100 on sunscreen, it has to be exceptional, and RéVive is. The lightweight cream melts into your skin for a flawless non-white-cast finish. Plus, the luxe packaging is a great staple for your summer shelfie.
If You Have Sensitive Skin
Photo: Retailer
Renée Rouleau specializes in treating all skin types, and her SPF is especially noteworthy. The cream is formulated with licorice extract, a popular anti-inflammatory ingredient that calms sensitivity. Whenever I have a breakout, this is the sunscreen I reach for to avoid clogging my pores any further.
The Trendy Buy
Photo: Retailer
Everyone loves a Supergoop! sunscreen. Among the cult-favorite brand's most popular SPFs is this setting mist. It's light and non-pore-clogging, and it protects your skin while letting you reapply your makeup.
If You Want Something Under $15
Photo: Retailer
Don't sleep on drugstore sunscreens; just because a product is expensive doesn't mean it's superior. This lotion feels more like a moisturizer than a sunscreen, so it's great for daily use, especially if you like dewy skin.
The Brightening One
Photo: Retailer
Ideal for someone who loves vitamin C products or struggles with dull skin, this moisturizer is blended with ingredients that brighten and improve the skin's barrier. The result is a radiant finish sans white cast.
The One With a Hint of Tint
Photo: Retailer
A lightly pigmented lotion made for all skin tones — no matter the undertone — this water-resistant formula is great for vacation, for when you'll be in the water, or for when it's really hot outside. This and my favorite lip gloss are all I wear at the beach.
If You Work Out Outdoors
Photo: Retailer
I can't count how many times I've looked at myself in the mirror after an outdoor run and seen white droplets of sunscreen sweating down my face. Not only does it look bad, but it makes me feel as if I'm not getting the proper amount of protection while working out. This lotion eliminates any worry of that with its top-notch absorption and finishing glaze.
If You Like Serums
Photo: Retailer
No cream, no problem! Cover FX's Booster Drops are unlike any other sunscreen. While this can be a bit heavy for oily skin, it's a great option if you don't like applying creamy sunscreen, especially under your makeup.
A Nostalgic Sunscreen
Photo: Retailer
This smells like coconut and pool water, instantly bringing back childhood memories of the water park. I don't go to a pool day without throwing this in my bag.
The 3-in-1 Option
Photo: Retailer
A sunscreen, primer, and moisturizer, this new mineral cream protects from the sun while nourishing the skin. It blends in with just a few strokes, and if you need a sunscreen postburn, the zinc oxide in this formula aids with the irritation.