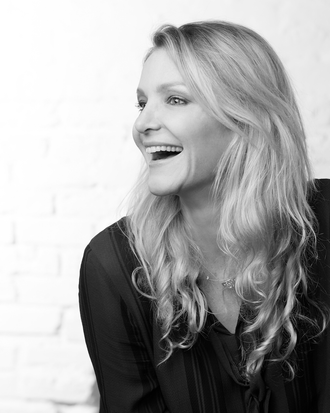 Each person in the U.S. throws away 80 pounds of clothing into landfills annually, according to Kristy Caylor. She's the founder and CEO of For Days, a sustainable brand making high quality basics from sustainable materials that's all 100 percent recyclable.
Caylor is a veteran in the sustainable fashion realm; she cofounded the luxury brand Maiyet, which worked with artisans from communities around the world. "I've been in fashion for 15 years and the old way is broken," she told the Cut. "We make too much stuff, which piles up in customers' homes, and almost all of it ends up in landfill. I was tired of closet clutter and clothing waste, and customers are ready to change their relationship to clothing — something more sustainable that's also accessible and easy. I saw the opportunity to build an exciting, fresh, and circular system that aligns values and value. I'm an optimist. I envision a world in which people can have everything and waste nothing."
Through the brand's Swap program, shoppers can send back their used For Days clothing, which gets upcycled, for a discount on new items. The brand will also take back non–For Days clothing in any condition using a "Take Back" bag since it partners with industrial recyclers to repurpose used clothing for other uses like insulation and stuffing for furniture. This spring, Caylor also introduced a "Closet and Credit" platform. Basically, customers can use their For Days clothing as currency because it can all be swapped and converted credit that can be applied to another item. "This establishes an innovative concept that everything you buy from the brand has a fixed buy back cost that you can use for future purchases when you recycled your used For Days clothing," the brand says.
We spoke with Caylor about low-rise jeans, artisan crafts, and Depop.
What's one piece from a new collection that's especially meaningful to you?
Our upcycled rib pieces are amazing. I can't choose one because I love them all: new shorts, pants, button-down dresses, and everything coming for fall. The fabric incorporates upcycled materials in a clean and cool way.
How do you thank someone for a gift?
Send them a personal note. Give them a big hug.
What would you never wear?
Low-rise jeans. I did that the first time around.
What's your dream vacation?
A beautiful seaside town, clean waves for surfing, delicious seafood, and lots of reading.
What's a good book on your coffee table right now?
Overview: A New Perspective of Earth.
Last show you binge-watched?
Mare of Easttown.
What's your guilty pleasure?
A (very cold) vodka martini.
Secret to hosting a good party?
Craft a party thoughtfully and then leave room for spontaneity because at the end of day, there is one true secret: good people.
What is a trend that you like right now?
Getting dressed and leaving the house.
One you don't understand?
Hugely oversized clothes. I also did that the first time around.
Favorite restaurant in New York?
I Sodi in the West Village.
What's the one thing you could eat everyday for the rest of your life?
Sushi.
Shoes you wear most often?
Silver Birkenstocks.
What are four inanimate objects that bring you joy?
"The most delicious smelling candle."
"These are happy, vibrant and all handmade. I'm a big supporter of artisan crafts."
"Depop is fun for discovery, research and the occasional personal purchase. I regularly go down the rabbit hole."
"My mom gave me this for Christmas, and it's perfect."