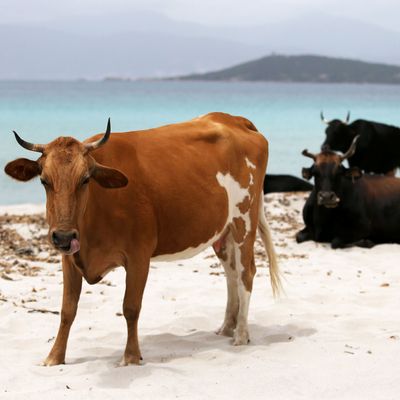 Photo: PASCAL POCHARD-CASABIANCA/AFP via Getty Images
There is nothing really subtle about a cow. They're big and loud and take up room unabashedly. So I suppose it was only a matter of time before they wreaked havoc and reclaimed their space on the beaches of Corsica. The island in the Mediterranean is known for being home to over 15,000 cows — it's one of the major tourist draws of the area. While people were stuck inside over the past year, the cows took over the beaches, roaming freely and luxuriating by the seaside. However, according to the New York Post, the cows have become "unusually headstrong" post-lockdown, and are making it aggressively clear that they no longer wish to share the space with humans.
In recent weeks, a man was gored in the neck by one of the cows on a beach in Lotu. A herd of cows chased tourists down one of the main streets in the town. Further inland, in Lozzi, a woman in her 70s was hanging laundry outside when she was attacked by a cow, suffering a severe leg wound. Crowds of cattle have also been trampling the southern part of the island, closing down beaches after having damaged cars, property, and, according to the Post, picnics. The cows are here and they appear to be seeking revenge.
These large, irritated creatures could definitely do some real damage if people aren't cautious. "If this goes on, there will be deaths," Francois Acquaviva, Lozzi's mayor, told a local newspaper, per the Post. So, what should one do if they cross paths with one of these gorgeous, angry beach cows? According to one local official: "When you see that [the cows] are heading in a particular direction, it is best to give them priority." There you have it, folks: Please prioritize the beach cows accordingly.