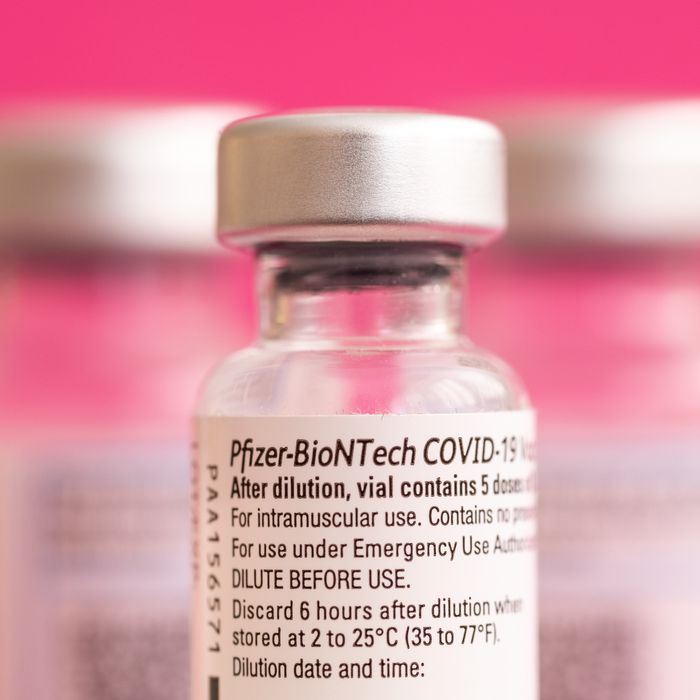 Photo: Marcos del Mazo/LightRocket via Getty Images
On Monday, the Food and Drug Administration granted full approval for Pfizer's coronavirus vaccine for Americans ages 16 and up, making it the first vaccine to receive FDA approval beyond emergency use in the U.S. It's an especially significant milestone as the Delta variant continues to spread across the country, slowing down some of the progress made over the 18-month pandemic.
In order to get approved, the FDA reviewed over 44,000 of Pfizer's clinical-trial participants across the U.S., South Africa, South America, Turkey, and the European Union. Pfizer's data found the vaccine to be 91 percent effective in preventing COVID-19 infection. At the beginning of August, the U.S. hit the 70 percent vaccinated/partially vaccinated mark, nearly a month after the White House's goal date of July 4. As of Sunday, 73 percent of adults have had at least one dose of the vaccine. Of those fully vaccinated, 54 percent (more than 92 million Americans) have gotten the Pfizer vaccine.
An estimated 93 million Americans are eligible for the vaccine but have yet to get vaccinated, according to the New York Times. A recent poll from the Kaiser Family Foundation found that 31 percent of unvaccinated people say they would get the vaccine once it had full FDA approval, and the FDA is hopeful that the announcement will lead to higher vaccination rates (though a reported 50 percent of unvaccinated people still cite at least one conspiracy theory as their reason for not getting vaccinated).
The FDA's approval does not include children ages 12 to 15, though the vaccine is still approved under emergency use for this population. Pfizer is currently working to collect the necessary information for full FDA approval for kids in this age group, and experts estimate we're still at least several months away from the FDA's decision on whether the vaccine will be authorized for children under 12.
The approval of Pfizer's vaccine comes just a week after the White House announced it would begin rolling out booster shots. Starting September 20, people who have received the Pfizer and Moderna vaccines will be eligible to receive a third vaccine dose eight months after the date they received their second dose. The FDA is currently in the midst of deciding whether to approve booster shots.
A decision on whether to approve Moderna's vaccine is also still under review and expected to take another several weeks. Johnson & Johnson has yet to apply for FDA approval, but is expected to do so soon. It's unclear whether the FDA's approval will lead to more vaccine mandates across the country, given that these types of regulations, along with mask mandates, have been a point of contention, specifically along political party lines. Regardless, there is overwhelming evidence that the vaccine is effective in preventing the spread of COVID, and those eligible should get vaccinated.