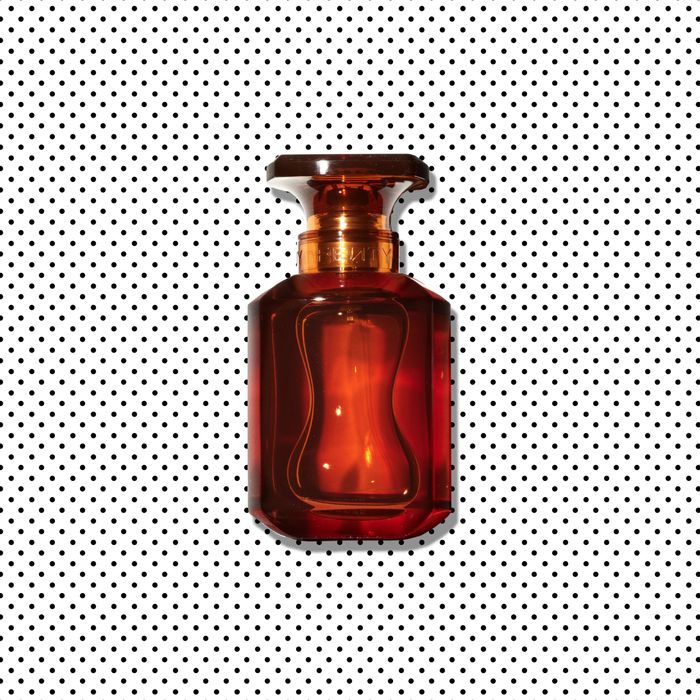 Photo-Illustration: The Cut; Photo: Courtesy of Fenty
You can't put the multi-faceted Rihanna in a box, but you might be able to bottle her. More information about the first perfume for her Fenty beauty line was released today. Housed in a sheer brown bottle with a suggestive imprint, the notes include magnolia, musk, tangerine, and blueberry with hints of Bulgarian rose absolute, geranium and patchouli. It's floral and woodsy, and slightly juicy and different than her previous scents.
Of the perfume, Rihanna said in a press release: "I wanted a rich color that really represented all genders from across all walks of life. Brown is my favorite color. Brown is who I am. Brown is what I come from. If I'm going to make a fragrance that represents me, even the body language of the bottle needs to marry that. So, I wanted something brown, but also transparent – so you could see the liquid and the fragrance you're about to experience." It's inspired by some of Rihanna's favorite places, including Bridgetown, Barbados; Grasse, France; New York, Paris, and Los Angeles.
Jacques Cavallier Belletrud, the master perfumer for Louis Vuitton, worked directly with Rihanna on the scent, describing it as "simple in terms of construction, with fantastic ingredients," and containing no dry down – unlike most perfumes, the scent doesn't need time to become fully robust. What you immediately smell is what you get. On a Zoom call, Belletrud spoke about how the singer visited Les Fontaines Parfumées, LVMH's master fragrance compound in Grasse and walked around in the garden for five hours.
And just like us, Rihanna has been working over Zoom. Belletrud told us of their 4 a.m. meetings, and how it took her an hour and a half to pick the perfect cap for the bottle. Ultimately, he describes the scent's formula as a "love elixir." The new fragrance suggests she heard everyone asking, "What does Rihanna actually smell like?"She won't tell you directly, but you can find Fenty Eau de Parfum ($120) on FentyBeauty.com starting August 10, 2021.
Photo-Illustration: The Cut; Photo: Courtesy of Fenty
Every product is independently selected by our editors. Things you buy through our links may earn us a commission.