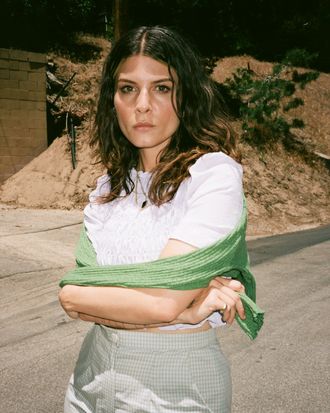 Photo: Courtesy of Gloria Noto
As someone who struggled with acne both throughout her 20s and as a makeup artist in the fashion and beauty industries for 15 years, Gloria Noto had countless conversations about skin. Eventually, she founded her namesake skin-care brand, Noto Botanics. Its line includes serums, oils, cleansers, mists, moisturizers, and some beauty products. Noto started the brand in hopes of bringing more inclusion into the world of clean beauty; everything she offers is made for all genders and skin types. Plus it's all vegan, cruelty free, and ecofriendly.
"Along with learning on my own, listening to people's questions, needs, desires, and wants is what made me fascinated with skin care," Noto told the Cut. "Years of developing my formulas based off of my personal findings is what makes my line unique. Learning what ingredients were clean and beneficial for multiuse, multi-gendered folx is what makes Noto stand out."
We spoke with Noto about cooking, microdosing, and wearing custom suits made by her partner.
What's one item from your brand that's especially meaningful to you?
The Rooted Oil. Originally when I made this, it was one of the first times I started playing with mixing oils for myself. It was a very organic and intuitive process for me. I would open bottles and smell them, put them next to other bottles, and smell them together, going off of how my body felt when they were combined. I wanted this scent to be purely intuitive and divine. When I would wear the final formula, I would get stopped and asked by complete strangers what I had on, then asked how they could get their hands on the scent. This was before I launched Noto. It gave me the courage to start my line because I knew I was making something that others would find joy in.
How do you thank someone for a gift?
I like to thank someone by cooking them a delicious meal or inviting them to stay at my A-frame lake house up in the mountain woods outside L.A. if we are close. Cooking someone a meal shows some of the deepest forms of love and gratitude.
What would you never wear?
In my opinion, there are no rules to fashion, and I've learned to never say never.
What's your dream vacation?
The one I am about to go on! Touring beaches and towns in Italy with my partner. Eating and drinking, soaking in saltwater, and meeting strangers.
What's a good book on your coffee table right now?
Giovanni's Room, by James Baldwin.
Last show you binge-watched?
Eurotrash — the years when Jean Paul Gaultier was co-hosting. You can find them on YouTube.
What's your guilty pleasure?
I find no guilt in pleasure. And one thing I love to pleasure myself with is drinking Shy Sours made with mezcal.
Secret to hosting a good party?
A very small microdosing of mushrooms so I can be present, relax, and enjoy myself and not be running around like a crazy person.
What is a trend that you like right now?
Tailoring coming back with a vengeance. I am having my partner, Ash Owens, make me a custom suit (@suitedatelier). I am excited to go to the farmers' market, business meetings, art openings, and visit my flagship store in L.A. in this suit.
One you don't understand?
I don't think it's fair to try to understand everything or even judge something I don't fully understand. I am grateful that people try to make new things come to life, even if it's not for me. I'd rather the efforts be there than not.
Favorite restaurant in New York?
I love Dr. Clark in Chinatown. It's incredible Japanese food that my friends took us to a few weeks ago. I also love Bakeri café.
What's the one thing you could eat every day for the rest of your life?
Sushi.
Shoes you wear most often?
I love my Intentionally Blank olive-green loafers with gold-buckle details. I also love being barefoot.
What are three inanimate objects that bring you joy?
"I hated it at first, but I'm finally starting to feel myself getting better at it. I love sweating, so this has been nice."
"I basically put olive oil on every single thing I eat and even put a splash on my pup's dog food for her to enjoy."
"I used to always carry my wallet and keys in my pockets. I've never totally felt comfortable carrying a purse or I just haven't found the right one that doesn't make me feel ultrafemme. I was gifted this fanny pack and haven't stopped using it since. I get why these sorts of things are useful, finally!"