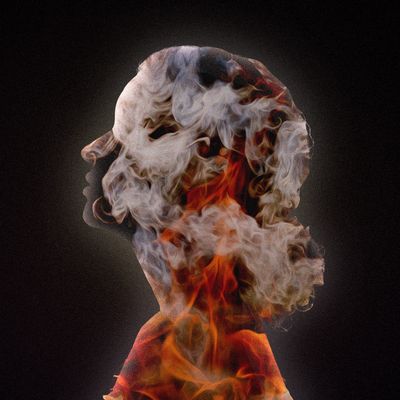 Photo-Illustration: by The Cut; Photos by Getty
There was a moment last winter when it felt like the crisis of pandemic parenting was about to hit a tipping point. COVID-19 carried the primal screams of frustrated, fatigued parents across the internet and moms were finally raising their hands and admitting, "We're not good, bitch."
The dueling disasters of a frightening, life-threatening virus and the resulting school and day-care closures pushed millions of women out of the workforce, and the rest were left juggling impossible schedules that made burnout inevitable. Almost every major news outlet devoted space to the plight of parents buckling under the strain of balancing remote school and work, and political leaders offered up platitudes about affordable child care, even backing it up with checks. For a moment, it seemed like the world was listening and an untenable situation could be, if not fixed, at least improved. The movement for universal child care picked up steam and there seemed to be an understanding that women needed more than girlboss aphorisms to manage the many multiple shifts of work and parenting.
Yet here we are, deep in a fourth wave, with schools about to reopen, and many of us are stuck in the same precarious, exhausting schedules of work and care. Only this time, with the emergence of the Delta variant and lagging vaccination rates, pediatric ICU numbers are spiking, children under 12 are more vulnerable than ever, and it's clear this marathon sprint we're running has no end point.
There was a brief feeling of reprieve early this summer when the second dose hit, businesses opened up, and it felt like everyone's shoulders relaxed, just a little bit. Patios and playdates came back and promising stats about the efficacy of the vaccines made it a little easier to feel optimistic about the months ahead. In an effort to enjoy it while it lasted, I even booked plane tickets for the entire family to visit my dad on the West Coast so he could meet my pandemic baby, his only granddaughter, for the very first time. If getting on an airplane with a 3-year-old and a 1-year-old in the middle of a pandemic is not some hopeful shit, I don't know what is! At that point in late June, the gravity of the Delta variant wasn't entirely known, but by the time we flew home in mid-July, it was clear that my optimism was premature.
Every time I've tried to describe to people around me what it's been like to have young kids over the past year, I inevitably reach for fiery analogies to fill in the blanks. "I don't know," I say to my friends, "it's a bit like my brain is burning and so is my entire house and someone just stole the fire extinguisher." Or, "You know, if I'm being honest, it feels like I'm juggling seven chainsaws, and oops, now they're all on fire and I've been doing it for 18 months." The only real difference between say, last August and now is that at least back then people were still asking how I was. Pandemic fatigue is inevitable and parents who've been on the brink since the beginning are bearing the brunt of it.
A couple of things helped temper the chaos over the past year, including low pediatric COVID case counts and an understanding from most employers that unorthodox schedules and the occasional cries of "Mommy, can you get my milk" would be inevitable and necessary components of our current working lives. Now both of those small allowances appear to be slipping away as we head into the second grim autumn of this pandemic.
The solace parents could take in the relatively positive outcomes for children and COVID is suddenly shrinking in the face of Delta's surge through unvaccinated and vulnerable populations, including kids. And with parents fighting for mask mandates and mandatory vaccinations for health and education workers, the best preventative measures look increasingly unsure as schools across North America prepare to reopen for in-person learning.
And despite growing concerns around the variant and children, in-person learning is imperative for working parents who've exhausted all their vacation days, backup plans, and favors they've called in to pull off months of patchwork care. Yes, school looks increasingly scary without masks or vaccines, but the alternative of managing your kid's remote learning while working at the same time is just as untenable for millions of families.
As employers rush to return to normal, the grace period afforded to parents and moms, in particular, feels like it's waning. Many workplaces want employees back in the office full-time and have less tolerance for the day-to-day chaos of working and raising kids in the middle of *all this*. In a recent CNBC workforce survey on return-to-office plans, nearly 40 percent of businesses surveyed said they had no intention of delaying that return despite the Delta variant. Service, retail, and other frontline workers remain at the mercy of their workplace's individual vaccine mandates and don't have the option of remote work. Given the rapidly changing nature of how Delta affects kids, it's easy to imagine a fall that looks a lot like this past spring, where schools opened and suddenly closed again as case counts went up, leaving many parents scrambling for care. Can single parents survive another year of will-they, won't-they closures or remote schooling? And where is the urgency around getting women back into the workforce after a year of devastating job losses? For parents, the message is resoundingly clear — we're on our own.
When I tweeted that I was feeling this way, the response from other parents was swift. Minnesota mom Katie Dohman replied, "Quite a bit of the world has moved on and we're still here, more worried than before with school looming." Lindsay in Ontario is just giving up talking about it entirely. "I don't even want to talk to anyone at this point because I have nothing to talk about other than being exhausted and depressed and no one wants to hear it anymore anyway," she says. I've also stopped discussing my stress with friends who don't have kids. I promise if you're sick of hearing about it, we're even more sick of saying it. At this point, even my texts with other moms just involve a bunch of crying emojis and some combination of the words "ugh," "help," and "I'm done."
To know that this many months later, with a vaccine, we're still roiling in anxiety over another bleak autumn is heartbreaking. I'm frustrated, I'm angry, I'm so, so fucking tired.
My eldest child will start school for the first time ever this September. It's a huge deal, something I've been thinking about since the day I had my first sonogram. Instead of celebrating this milestone, I'm grieving, devastated that children haven't been more of a priority in whatever our return to normal should've looked like. Politicians have wasted more than a year stalling and prevaricating rather than enacting the kind of measures that would have prevented this déjà vu.
Winter is coming and despite the lack of headlines about it, the clusterfuck of pandemic parenting hasn't changed for most of us.
We're still here, we're still screaming, but is anyone listening?