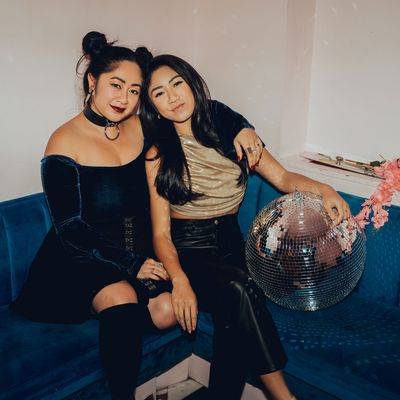 In Vietnamese, the phrase "omsòm" means "noisy, rambunctious, and riotous." It's often used by parents to scold unruly children. At least, that's what sisters Kim and Vanessa Pham recall from their childhoods. Now, it's also the name of their food brand, which was inspired by watching their Vietnamese mom cook dinners from scratch every night.
The brand sells "starters," which are essentially sauces packaged in portioned packets with all the flavor components needed to make a specific Asian dish — like Vietnamese lemongrass barbecue, Korean spicy bulgogi, and Filipino sisig. All you have to do is add your protein and veggies and mix it all up in a pan.
The process may be simple, but that doesn't mean the flavors are watered-down versions of the real thing. "Food is an incredibly important facet of culture, and I was honestly sick and tired of seeing different Asian cultures being diluted and whitewashed on grocery store shelves," Vanessa says. "So we started a food brand that makes products with cultural integrity."
We spoke with Kim and Vanessa about MSG, pork belly, and their favorite Asian restaurants in NYC.
What's one Omsom starter that's especially meaningful to you?
Kim: Our krapow is the first product of its kind to proudly feature MSG as an ingredient! It's impossible to talk about Asian-American food without talking about the vilifying of MSG rooted in bad science and anti-Asian xenophobia. Really proud to be part of rewriting this narrative.
Vanessa: Our Lemongrass BBQ, or thịt nướng. It's a classic Vietnamese summer cookout dish that I grew up on. We collaborated with Chef Jimmy Ly of Madame Vo in NYC to bring Omsom's version to life, and it truly reminds me of home.
How do you thank someone for a gift?
Kim: A handwritten note sent in the mail!
Vanessa: If it's really good, some baked goodies.
What would you never wear?
Kim: Gingham, ballerina flats, and wrap dresses.
Vanessa: Pearls, Mary Jane heels, polos, and country club attire.
What's your dream vacation?
Kim: Please let me eat my way through Shanghai for a month!
Vanessa: A remote island retreat in French Polynesia with my closest friends.
What's a good book on your coffee table right now?
Kim: In a couple days, I devoured Kink — a beautiful, curious collection of short stories diving into BDSM, power exchange, kink, and fetish from some truly powerful writers.
Vanessa: In Bibi's Kitchen by Hawa Hassan is a stunning cookbook — part storytelling, part recipes from eight different grandmothers from eastern Africa. I literally read it page-by-page like it was a novel.
Last show you binge-watched?
Kim: Loki. We stan a witchy bi legend.
Vanessa: Euphoria. I am full-on obsessed with Hunter Schafer.
What's your guilty pleasure?
Kim: I can't list the non-vanilla ones (hehe) but definitely pork belly, although I don't feel much guilt about that anymore. And too many expensive soy candles!
Vanessa: Housemade aiolis!
Secret to hosting a good party?
Kim: Create moments for serendipity! Give folks opportunities to meet one another and get out of their comfort zone. I had an ice luge at my rooftop birthday party, and it always creates a reason for folks to gather and meet around.
Vanessa: A lit dance floor.
What is a trend that you like right now?
Kim: The open discussion around biphobia driven largely on TikTok. There's a whole mess of content that I wish had access to as a young queer babe that would've helped normalized so much that I kept in the dark for a long time!
Vanessa: I am loving outdoor European dance culture taking over New York, specifically in Bushwick and Ridgewood.
One you don't understand?
Kim: The resurgence of low-rise jeans. Please, dear God, let's leave them in the early 2000s.
Vanessa: "Wellness" culture that doesn't recognize and honor the Asian traditions from which they pull. We can all push the industry to do better.
Favorite restaurant in New York?
Kim: Why are you asking me to choose a favorite child? If I had to choose, I truly cannot stop eating at Mala Project. Amelie and her team can do no wrong!
Vanessa: Right now, I can't get enough of Saigon Social. I love their bún chả. Chef Helen Nguyen is a true gift to the Vietnamese-American community, too.
What's the one thing you could eat everyday for the rest of your life?
Kim: Fish sauce. It runs through my veins.
Vanessa: Jasmine rice. Growing up, my dad always used to tell us that each grain was a pearl from the gods. So I never want to waste a grain!
Shoes you wear most often?
Kim: Lace-up Dr. Martens boots. I am every chaotic bi stereotype.
Vanessa: Platform sneakers — highly functional but still chic.
What are six inanimate objects that bring you joy?
Kim: I am wildly obsessed with Berlin-based brand Namilia. Their stuff feels bold, feminist, and extra AF. This chest harness is versatile enough to give any outfit a tactical edge.
Vanessa: Makes everything taste ten times better. No other explanation needed.
Kim: I literally use this liner every day. It is the perfect jet-black, super-precise liquid liner pen for all of your makeup needs! From intricate tattoo designs to a simple winged liner, this is my go-to.
Vanessa: Whether or not you enjoy tarot cards, this deck is a fun one to have on hand for nights where you want to light some taper candles, bust out a bottle of natural wine, and reflect on the forces at play in your life.
Kim: I always have a candle burning in my Brooklyn apartment, as it helps me de-stress after a long day at work. I love Emme's candles because not only is the brand Asian-run, they also have stellar scents. My fave is the lychee, which reminds me of my childhood!
Vanessa: I swear by this stuff as a panacea. Bug bites, twisted ankles, sore throats … you name it, it heals. I use a brand you can only get in Vietnam, which I stock up on when I go there, but the Tiger Balm brand works well too.