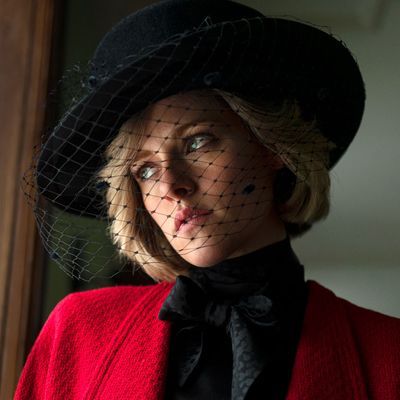 A glorious Spencer teaser trailer release day to all who celebrate! Today, we were blessed with a new look at the forthcoming Princess Diana biopic starring the people's princess, Kristen Stewart. And, I have to say, she is definitely giving me Princess Di (with a tiny bit of Jodie Foster). The hair! The outfits! The small taste of Kristen Stewart's British accent! It's all a delicious little amuse-bouche for what is to come.
Spencer — as in Diana Spencer, the princess's maiden name — takes place deep in the throes of Princess Di and Prince Charles's dissolving marriage., following Diana during a single holiday weekend in 1991, when she decides to leave Prince Charles. The prince will be played by Jack Farthing, best known for his role in the BBC drama Poldark, if that means anything to you. The film is being directed by Pablo Larraín, who also directed Jackie, which is to say we can expect many shots of Stewart looking contemplative and glamorous.
The teaser is set to a choral cover of Lou Reed's "Perfect Day" — in my opinion, a very fitting choice. Both have the superficial guise of lightness and sweetness while, at their core, being ominous and unsettling. (Critics have speculated that "Perfect Day" is actually about heroin and addiction.) Also, I would gladly watch Kristen Stewart running in a field while a choir sings any day of the week.
Unfortunately, we'll have to wait until November 5 to see Spencer in all its royal glory. Until then, you can find me scouring the internet for dupes of Stewart's outfits in the movie.