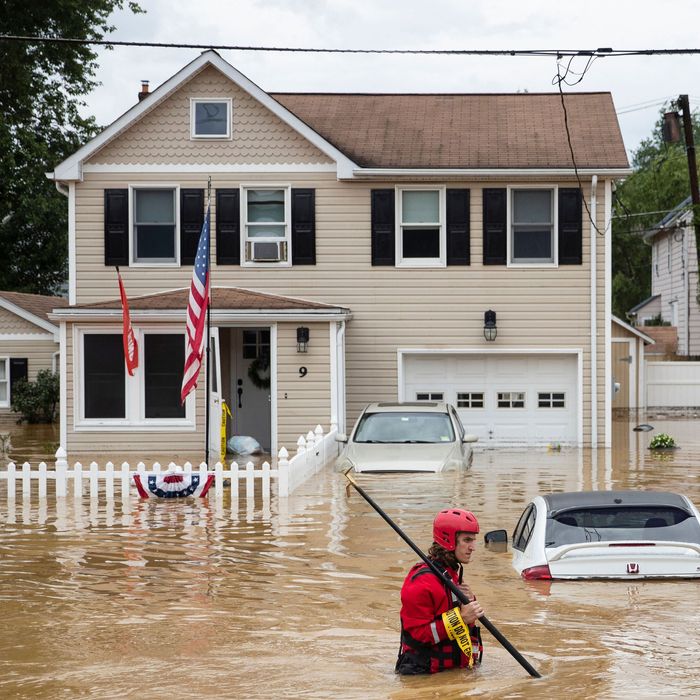 A New Market Volunteer Fire Company rescue crew member wades through high waters following a flash flood, as Tropical Storm Henri makes landfall, in Helmetta, New Jersey, on August 22, 2021.
Photo: Tom Brenner/AFP via Getty Images
In the latest from the End Times desk, at least five states in the U.S. are currently experiencing severe destruction, displacement, and fatalities thanks to a deadly combination of wildfires and tropical storms.
On the West Coast, wildfires are yet again ravaging Northern California. Near Lake Tahoe, the Caldor fire has been burning for nine days now with zero containment as of Sunday, while 100 miles north, the Dixie fire (the second-largest on record in California, beat only by last year's August Complex fire) is also contributing to the damage, leaving an area twice the size of L.A. completely charred.
Meanwhile, floods of biblical proportions are sweeping across the East Coast. Following last week's Tropical Depression Fred, flash floods persist in North Carolina, killing five people and destroying homes, bridges, and roads throughout the region, which is currently in a state of emergency. Further south, heavy rainfall caused major flash floods, which some residents described as a "tidal wave," in rural Tennessee, leaving at least 22 people dead and over 24 still missing.
Over the weekend, Tropical Storm Henri hit Rhode Island, Connecticut, New York, and New Jersey, moving further north as it eases into a tropical depression. On Saturday, the National Weather Service reported that Central Park had gotten the most rain it's seen since "record keeping began." (Depressingly, the rain shut down a concert in the park intended to celebrate the return of New York, cutting short a Barry Manilow performance. Barry Manilow!)
President Biden addressed the damage caused by Henri in a press conference on Sunday, saying that he has approved emergency declarations and, with them, federal funding, for Rhode Island, Connecticut, and New York. He also acknowledged the Tennessee floods, saying that he plans to offer assistance to the state's governor.
While Biden's address made no mention of climate change, it goes without saying that extreme weather (especially the unprecedented scale of the past few years' disasters) is a direct result of atmosphere warming. Just this month, a report from the U.N.'s climate-change panel put all of humanity on "code red" and promised increasingly worse disasters in the coming years as a result of human activity. This week's events are further evidence we are rapidly running out of time to act.