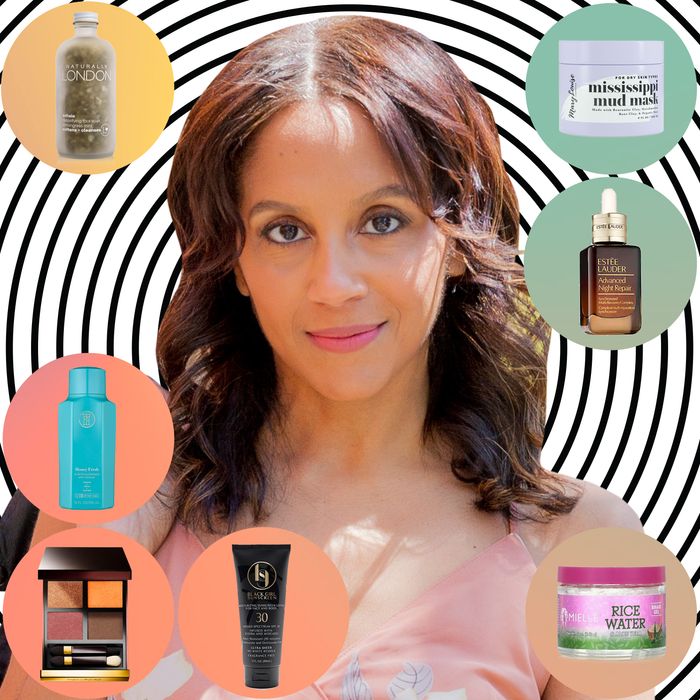 Photo-Illustration: The Cut. Photo: Courtesy of Tia Williams
On the Beauty Group, a Facebook community co-founded by the Cut and the Strategist, people chat all day long about the products they love — the ones so good they'll make you hit that little "auto-refill" box at checkout. Below, we asked one of our favorite beauty pros to share his own selections.
"No matter the time of the year, I want to look like I just got back from a resort," says Tia Williams. "The 'rule' is that everything is supposed to be more matte the older that you get, but I totally disagree. I like a bit of shimmer on my skin." A former beauty editor, Williams worked at Elle, Glamour, Lucky, and more magazines for fifteen years before heading to Estée Lauder Companies as an Editorial Director. She's also a best-selling author — her latest book, Seven Days in June, debuted on the New York Times Best-Seller Fiction list, while her 2016 novel, The Perfect Find, is being adapted for the screen by Netflix (and will star Gabrielle Union).
In the event that she does find herself with a moisturizer that doesn't offer some type of glow, Williams has learned to mix in a drop or two of highlighter. "When I was younger, I was a makeup lady — I piled it on. I liked event makeup, so I either wore a major eye and a nude lip or a major lip and a nude eye," the self-described beauty junkie explains. Now that I'm over 40, makeup sits differently on my skin, but I don't want to have a flat face with no dimension!"
Below, Williams shares the products that help her maintain an all-around glow, including the color-safe shampoo she trusts for her 3C curls, the "truly invisible" sunscreen she loves, and the pen that stopped her nail-biting habit.
The Eyeshadow
Photo: Courtesy of the Vendor
"I'm obsessed with dangerously dark, femme fatale smoky eyes … on other people. But for me, I always come back to shimmering golden-bronze neutrals. This is my everyday go-to eye palette. The shades are sun-kissed perfection, and they never crease or fade."
The Shampoo
Photo: Courtesy of the Vendor
"I'm super-into monthly clarifying shampoos to remove product buildup but most of them leave my hair so dry. This shampoo from Taraji P. Henson's line is truly moisturizing. After using it, my hair feels silky, lustrous, and touchable. Plus, it's color-safe!"
The Serum
Photo: Courtesy of the Vendor
"For ages, my skin-care regimen consisted of makeup wipes and prayers. When I hit 40, I got my act together. This serum smooths out fine lines and brightens a dull complexion — and it really, really works. I use it every night before moisturizing, faithfully."
The Hair Gel
Photo: Courtesy of the Vendor
"The gel is formulated for braids, but I use it for two-strand twists! The combination of rice water, aloe, and yuzu is so conditioning but isn't too heavy and doesn't overwhelm my fairly thin hair — and it leaves such a pretty scent."
The Sunscreen
Photo: Courtesy of the Vendor
"Need I say more? So many sunscreens leave an ashy cast on Black and brown skin, but this broad-spectrum SPF 30 formula is truly invisible. Plus, it's loaded with natural ingredients and helps with hyperpigmentation and dark spots."
The Foot Soak
Photo: Courtesy of the Vendor
"This decadent, totally 'clean' line was developed by an aromatherapist, and it shows — it smells like a mix of lemongrass and mint. On Sundays, I like to treat myself to this spa-quality foot soak while watching my favorite Real Housewives of Potomac episodes."
The Headband
Photo: Courtesy of the Vendor
"I love the ease of headbands, but cotton ones aren't great for curly and kinky hair, which gets caught in the fibers and can break off. Grace Eleyae makes silk and satin-lined headbands (sleep bonnets and winter hats, too) that are super-chic and safe for my hair."
The Flat Iron
"I wear my 3C curls natural a lot of the time, but I do love a swingy blowout. Straightening my edges is the hardest part, but this über-skinny flat iron is perfect for catching and smoothing baby hairs. I searched for skinny flat irons on Amazon, and it was very highly rated. This is when Amazon reviews are so amazing — not when you're an author. [Laughs.]"
The Nail Pen
Photo: Courtesy of the Vendor
"One of my quarantine coping mechanisms was biting my nails bloody. This brush-on solution was bitter enough — it tastes as if you got powder in your mouth, and gives you an uncomfortable feeling — to help curb the habit. It also doubles as a fabulous cuticle moisturizer."
The Face Mask
Photo: Courtesy of the Vendor
"My skin is seriously parched, and so I tried this 100 percent organic, all-natural, moisturizing mask upon a girlfriend's suggestion, and wow. There's a reason it's constantly sold out. The blend of marshmallow root, clays, and essential oils is detoxifying and nourishing, plus it smells fantastic, kind of like lavender and chamomile."
The Roll-On
Photo: Courtesy of the Vendor
"I've had chronic, daily migraines since I was nine years old — and I take an overwhelming number of preventative and pain-killing medications. But I've always tried to supplement my treatment with natural remedies, too. Can't hurt. I keep this tingly, lavender-based roll-on by my laptop during the workday and rub it into my temples between Zooms. It's so soothing."
The Book