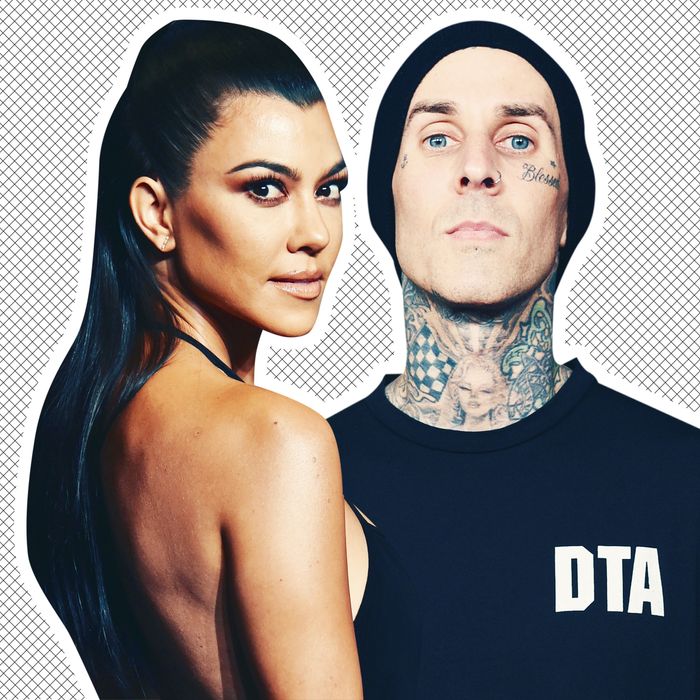 The haircutter, right, and his muse.
Photo-Illustration: by The Cut; Photos: Getty Images
Kourtney Kardashian and Travis Barker have really done it all. They've touched tongues in public. They've shown us their orgasm candles. They've even sucked fingers on the internet. Now, everyone's favorite Horny Couple has taken it to the next level: at-home haircuts. Whether or not it was for sex reasons has yet to be confirmed. (But, like, it was probably for sex reasons, right?)
On Thursday, Kardashian shared a photo of a lock of her chopped hair on her Instagram Story. Per "Page Six," she tagged her Blink-182 drummer boyfriend, crediting (blaming??) him for the haircut. I suppose this was the natural evolution from him braiding her hair? First comes love. Then comes horny PDA, hair braiding, and speculation of an engagement. Then comes a haircut, and eventually, I'm assuming, we'll learn that these two have actually been married for months now.
Anyway, it's been days, and we've yet to see a photo of the final haircut. Is it good? Is it bad? So many unanswered questions. Or maybe just those two. Regardless, I am left to speculate. Perhaps Barker gave her a nice little trim or maybe he gave her a mohawk à la his signature look.
Maybe he gave her a TikTok hairstyle like the "wolf cut" or some hair horns. Or, hear me out, he gave her a mohawk but dyed it red.
The possibilities are endless: he could have cut bangs or given her layers or a blunt bob or trimmed some of those '00s face-framing tendrils. Or maybe he gave her a stringy-ass mohawk.
Only time (and Instagram pics) will tell …
UPDATE: And tell they have. Kardashian shared photos from the couple's apparent ten-day quarantine, including one of the haircut by Barker. (It's not clear whether the quarantine was because they tested positive for COVID-19 or were just exposed to the virus or just wanted to be alone for ten days. All are equal possibilities.) The haircut is … perfectly fine if not a little boring. It looks like a blunt chop and, based on a topless photo, effectively covers her nipples.
This post has been updated.