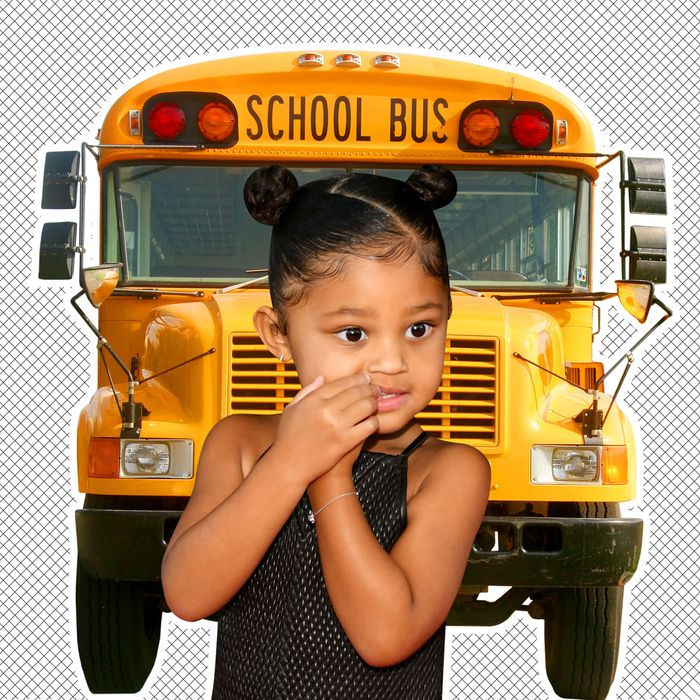 For the toddler who has everything.
Photo-Illustration: by The Cut; Photos: Getty Images
A question that comes up more often than it should: What to get the toddler who has everything? What do you buy when you are trying to impress a 3-year-old She-EO who already has her own home and a $200,000 pony? Hm. Maybe try … a big yellow bus, sure why not. That unusual gift seems to be going over well enough for Travis Scott, whose daughter Stormi Webster checks all the aforementioned boxes and appears to be getting a kick out of the school bus her dad just got her.
Kylie Jenner advertised the extravagant present in her Instagram Stories, posting a photo series of Stormi lovingly caressing a bus's sunny flank, then surveying its empty insides. "All Stormi has been talking about is riding a big yellow bus," Jenner explained, so her "daddy surprised her" with an exotic school-bus experience. Rich people doing plebe cosplay, okay!
Based on my 60 seconds of research, a new school bus runs anywhere from $90,000 to $290,000, which feels within the Jenner-Scott price range, though it is presently unclear if Scott bought her the bus or rented it or just like … took Stormi to a bus depot and let her roam around. Given Stormi's age, it makes sense that these bad boys might exist for her only as a concept from movies and TV. But realistically speaking, this will probably never be how she gets to school, so: Take it all in Stormi. How do you like being on the bus? Pretty boring and a little bit barfy, what with all the warm vinyl smells and the lack of air circulation??
Yeah. Sounds about right. Maybe some other kids would have helped bring the whole thing to life.