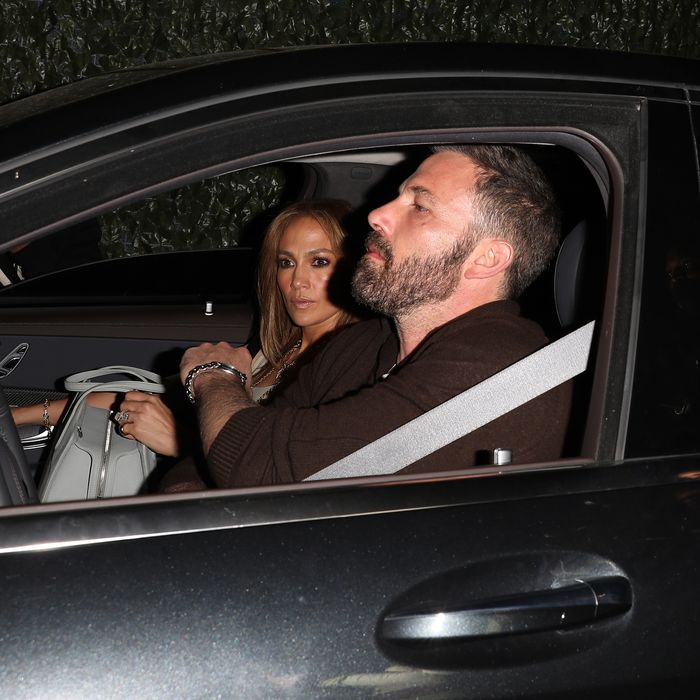 Is that why J.Lo made this face a few weeks ago?
Photo: Photographer Group/MEGA/GC Images
The best thing about A-list celebrities is that, at the end of the day, they're really just theater kids with a lot of money. Thus, it was only a matter of time before Bennifer had a family outing to see Hamilton. According to "Page Six," Ben Affleck, Jennifer Lopez, J.Lo's twins, Affleck's daughters, and his mom all went to see the musical at Los Angeles's Pantages Theater over the weekend. Lest you get distracted by the size of this crew or wondering whether this is the first time Bennifer has seen Hamilton — I mean, the tickets were notoriously hard to get — may I direct you to the most important bit of information from the evening: Bennifer appeared to kiss while wearing their masks.
Let's set the scene: Bennifer and company, all in masks, sneak in right as the lights are going down so they aren't bombarded by fellow theater nerds. They watch the show, probably cry and clap and sing. Maybe J.Lo leans over to Ben and says, "I know all the words to 'Say No to This.'" Then, the musical ends. Ben and Jen wipe away their tears, stand up, and … give each other a little kiss??
If you'd like to speculate for yourself, TMZ has a video of the couple getting ready to leave Friday's show. For what it's worth, it's unclear if Bennifer is actually masked kissing in the video. TMZ claims they kissed, and Harper's Bazaar seconded. Then again, maybe they're just whispering or pressing their faces together?? While the idea of these two kissing while wearing their masks is, in a word, haunting, I would not be entirely surprised if they did. I mean, what haven't they done in public at this point?
Still, I have some questions: Did they not want to wait until they were maskless in the car? What are they trying to prove? Is this a regular ritual, seeing musicals and having a little masked kiss? I suppose we'll have to wait until they inevitably see Dear Evan Hansen to find out.