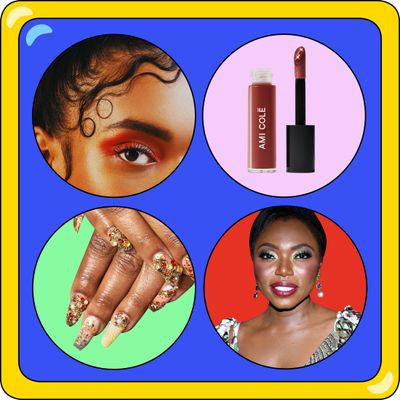 Photo-Illustration: by the Cut; Photos Getty Images
Every day, but especially this month, the Cut is taking up space to celebrate Black beauty. Black beauty is a topic that is very near to my heart as a Black woman. So much of what you see in magazines, in beauty-product advertisements, and in commercials is from the lens of European beauty standards. It never feels like being Black is good enough or pretty enough, yet our features are exalted when not attached to a Black body.
Only in the past couple of years could you walk into a beauty store and find an in-between shade of foundation or a plethora of products for different hair textures. But even so, at fashion shows, countless models have had to deal with doing their own hair and makeup, and brands still take the shortcut of using Black models as the faces of products, but only if they have a perfectly loose curl texture and light skin. It's like Hanna Allison once said: "Black women will always be too loud for a world that never intended on listening to them."
But as a Black woman leading this publication, I am so proud that we get to use this platform to listen to Black women — women just like you — and have conversations that are too often pushed under the rug. This partnership with Sephora brings me so much joy, and I hope it does the same for you in experiencing a month of Black-beauty content that will spotlight some of the biggest and brightest voices of our generation.
I'm particularly excited for an editorial that centers Black women in the world of nail art; an essay on Black perfumers changing the industry; interviews with perfumer Chris Collins, inclusive-beauty-brand owner Danessa Myricks, and Carol's Daughter's Lisa Price; and incredibly comprehensive roundups of the best sunscreens, nude lipsticks, and tinted moisturizers for Black skin.
We as Black women deserve to take up space, no apologies, and that's exactly what this month is about. So I hope you feel loved, celebrated, and as phenomenal as you are, and that you call the Cut home, as this is not just a month of content to us but a holistic part of inclusivity I so deeply care about.
Below, find all of our Black Beauty Matters stories.
.

Black Beauty
.

Scent Memories
.

Wellness Theories
.

Why's Your Skin So Good
.

Auto-Refill
.

A Beautiful Life
.

Skin Deep
.

Hair