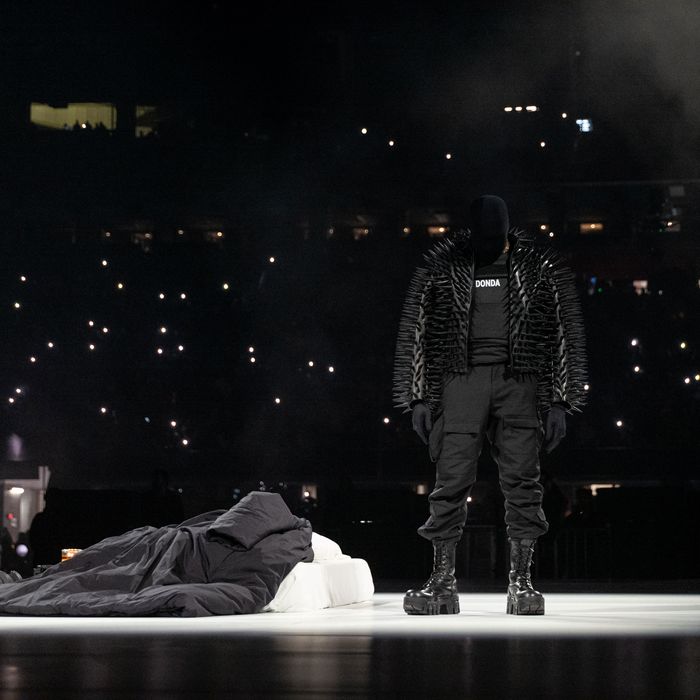 Last night in Atlanta, Kanye West performed his highly anticipated upcoming album, Donda, for the second time. The scene in the Mercedes-Benz Stadium, which has become Kanye's new home, was livestreamed on Apple Music, along with every moment of preparation. The night opened with a Sunday Service-esque choir, and Kanye singing, "It's the kingdom and the power and the glory forever."
He's the kind of artist with no separation between his own identity and work, so there was a thread of Kanye in every little moment — the constant wardrobe changes, the street-cast performers' hype one moment, the next weeping, barefoot, crawling to what seemed like a church altar. Kanye stood solitary in the center, but was surrounded by a circle for most of the performance. All involved were covered from head-to-toe in looks symbolizing the protection and "covering" of his mother, wearing choir robes, Donda vests with full-face-covering masks, and jackets emblazoned on the back with a cross in the center of the Star of David. All the while, lyrics repeated Donda West's name throughout the night, to invoke a kind of perseverance that she brought to Kanye, one that is forever part of him.
Every moment and lyric referenced the act of elevating and going higher. Donda West, who tragically passed in 2007, has continuously been an essential source of inspiration and a guiding light for him, a fact brought to life in the theatrical performance at the show's end, as he was raised into the air, lying down on trapeze wires, almost as if he was ascending into heaven with spotlights around him.
Earlier in the week, Kanye announced that his close friend and Balenciaga artistic director, Demna Gvasalia, would be part of the project, and he wore a head-to-toe black look that included a spiked jacket from Balenciaga's fall/winter 2020 collection. And with his continued partnership with Gap and commitment to make essentials feel more intentional, it seems as if West is making his dreams of becoming "the next Steve Jobs" of fashion and culture a reality.
Guests like Chance the Rapper, Migos, Rick Ross, and a few Real Housewives of Atlanta were present, as well as Kim Kardashian, while Kanye played a new version of a song titled "Love Unconditionally" that opened with Donda saying the words, "No matter what, you never abandon your family," as he repeatedly rapped: "I'm losing my family." In this performance, though, he added a few lines to the song, saying, "Time and space is a luxury, but you came here to show that you're still in love with me."
Only Kanye could have people come and listen to — and be fully engaged with — an album, without actually dropping an album. Still, at the end of the night, there was at least a preorder for the infamous $200 red puffer jacket from Yeezy Gap online to hold people over.