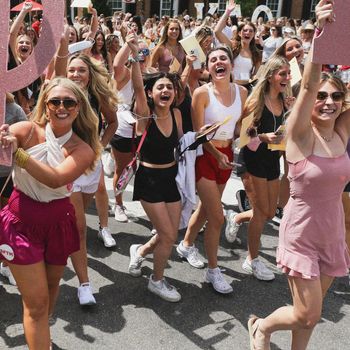 Photo: Gary Cosby Jr. via Imagn Content Services, LLC
You've (probably) been watching it all week: real time TikToks from Bama Rush — America's largest Greek life recruitment. The feed-dominating videos of sorority hopefuls at the University of Alabama are oddly mesmerizing to watch: Bubbly 18-year-old girls talk through their rush outfits, noting where they bought each item ("Steve Madden," "Shein"). Watch enough videos, and you'll find yourself suddenly too emotionally invested in what they're wearing on "sisterhood day two" and whether or not they'll get a bid for their dream house. You'll also find that nearly all of the sorority hopefuls are white.
That fact isn't an accident: The University of Alabama only officially desegregated its sororities in 2013, after the university's student newspaper, the Crimson White, published a story about a Black student attempting to rush a sorority. Despite receiving high scores during the recruitment process, the student did not receive a bid, and numerous members of the sorority claimed that her name was removed from the pool of potential new members (PNMs) before they even had the chance to vote on her acceptance. At the time, current members blamed alumni, who they said pressured them to remove the student's name from the list, going as far as threatening to pull their financial support if they accepted a Black student.
Following the article, the university's president, Judy Bonner, posted a video acknowledging the racism entrenched in the school's fraternities and sororities. "Our Greek system remains segregated and chapter members admit that during the recruitment process that ended a few weeks ago, decisions were made based on race," she said. In an attempt to enact change, Bonner mandated that sororities alter their recruitment process to invite members at any time (as opposed to just during rush week) and expand the size of the pledge class to include new diverse members.
Yet, as Bama Rush TikTok makes obvious, not much has changed since this "mandate." In fact, in recent years, Alabama sororities have been plagued by a number of high-profile racist incidents. In 2014, a snapchat from a Chi Omega sorority sister bragging that their chapter did not accept any Black members into their pledge class circulated around campus. President Bonner released another statement condemning the incident, and the student was removed from the chapter. In 2018, an Alpha Phi sorority member was expelled from the university for posting two racist videos to her private Instagram page, including one in which she said, "I love how I act like I love Black people," followed by racial slurs.
Last year, as protests for racial justice garnered national attention, sororities across the country began to reckon with their participation in a system built on exclusion, elitism, and often, blatant racism. At the time, the Alabama Panhellenic Association put out a statement that the organization was "​resolved to hold one another accountable and use our personal, organizational resources and platforms for positive change."
Yet despite the messages of "solidarity," in 2020, the Crimson White reported that only 1.2 percent of students involved in Greek life on campus identified as a Black or African American. To be clear, these issues aren't unique to the University of Alabama. Across the country, fraternities were founded on principles of white supremacy and racial exclusion, and centuries later, they haven't escaped their roots. Recent years have seen fraternity and sorority members involved in too many racist incidents to count, from 2015, when the University of Oklahoma expelled two fraternity of Sigma Alpha Epsilon members for singing a racist chat, to 2019, when Syracuse University suspended all fraternity activity after a Black student was subjected to a racial epithet.
And deeply entrenched racism is just one of many problems that continue to plague American Greek life. There's also intrinsic classism: The New York Times reports that sorority-member dues at Bama can cost up to $4,978 a semester, which doesn't include the cost of living in a sorority house, estimated at more than $7,000 a semester. On top of that, women in Greek life are 74 percent more likely to experience sexual assault than those not involved, and fraternity brothers are three times more likely to commit rape. Hazing and other humiliating initiation rituals are still common, and often, dangerous, with binge-drinking sometimes going far enough to result in death.
"So why keep it if it's racist, classist, promotes sexual assault and drug use?" @cedonifrancis asked in a recent TikTok detailing her experience as a Black member of Kappa Kappa Gamma at Vanderbilt University. "It doesn't make any sense." One likely answer — besides the money Greek institutions and their powerful alumni networks continue to bring in for colleges — is that the pull of these elitist institutions remains strong. Potential members are lured in with the promise of social capital: invitations to parties, a network of alumni, friendships that last a lifetime. And it's hard to deny that, for some people, the benefits are real: A 2014 study from Cornell University found that despite the fact that only 2 percent of Americans join a fraternity, 80 percent of Fortune 500 executives and 76 percent of U.S. senators and congressmen were fraternity members.
But it's also hard to look away from the more uncomfortable reality: As @cedonifrancis put it, "organizations founded on being exclusionary can never be inclusive." That truth felt especially glaring this weekend, when Bama Rush fan favorite Makayla Culpepper (@whatwouldjimmybuffettdo on TikTok) was suddenly dropped by every house. Makayla suggested the reason she didn't get any bids could be due to a video that circulated on social media where she appears to be drinking underaged (which she denies). Yet it's impossible to ignore that Makayla was one of the few women of color participating in rush; just a few days before she was dropped, she posted a TikTok clarifying that she was mixed race. The fact that she didn't get any bids feels like yet another reminder that, despite all the lip service, Greek life hasn't really changed at all.