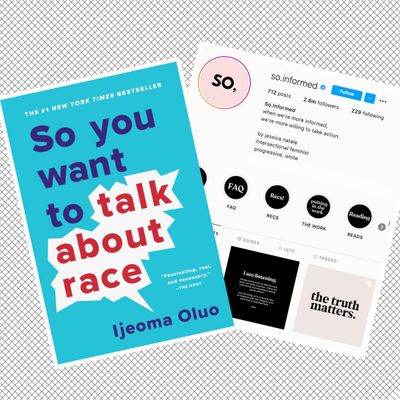 Photo-Illustration: by The Cut; Photos: Amazon, so.informed/Instagram
Last summer, amid long-overdue conversations about police brutality, racism, and white privilege, a new brand of social-media activism started to take over our newsfeeds: social-justice slideshows. These aesthetically pleasing, PowerPoint-style Instagram posts provided bite-size explanations on everything from the history of Juneteenth to nonoptical allyship to conscious consumption.
Among the Instagram accounts creating such viral posts is @SoYouWantToTalkAbout, which posts infographics on topics related to social justice and current events and currently has nearly 3 million followers. The account has recently come under scrutiny for its name, which caused confusion given its similarity to writer Ijeoma Oluo's best-selling 2018 book So You Want to Talk About Race, as well as its lack of transparency regarding who was running the page.
Below, what we know so far.
The @SoYouWantToTalkAbout Instagram launched two years after Oluo's book was published.
Oluo's So You Want to Talk About Race was published January 16, 2018. The book, a series of nonfiction essays discussing race in America, saw a resurgence in attention last summer, eventually topping the New York Times' best-seller list, and has often been pointed to as a resource for anti-racism. Oluo, who is Black, is an acclaimed writer, specifically on the topic of race. Last fall, she released her second book, Mediocre: The Dangerous Legacy of White Male America.
The @SoYouWantToTalkAbout Instagram, which we now know is run by a white woman named Jessica Natale, started on February 11, 2020. As Natale explained in a recent Instagram post, the account began as a pro-Bernie Sanders resource, where she provided information related to his presidential campaign, like the difference between socialism and communism. Natale says she began getting requests to break down topics outside of Sanders's campaign, eventually expanding the account into what it is today: a series of infographics on a breadth of issues related to social justice and identity, including race. Last year, Natale told Vox she went from 10,000 followers in June to 1 million followers in August. The account currently has 2.8 million followers.
Earlier this year, @SoYouWantToTalkAbout announced a book deal and revealed who is behind the account.
On April 12, Natale announced that she'd gotten a book deal inspired by the account; the book's title is So Let's Talk About It: A Toolkit for Unlearning. "The book is this page in physical format," she wrote, adding that it would also include new content. In announcing the book deal, Natale also revealed her identity — both her name and race — for the first time. "Nothing about this page is going to change now that I am no longer anonymous and you know who I am," Natale wrote in the post announcing the book deal. "I have no desire to be a public figure or an 'influencer.'" In the months since the book announcement, Natale has posted two IGTV interviews and one podcast interview.
As Oluo pointed out in a recent Instagram story, Natale's book is being released under the same publishing umbrella as her books. (Natale's book is coming out with Voracious, an imprint of Hachette Book Group, which published So You Want to Talk About Race.) Since the backlash, Natale has announced that she's pausing publication on the book, which was supposed to come out this fall.
Backlash mounted after @SoYouWantToTalkAbout posted an infographic that included a slur.
On August 4, the Instagram account posted a slideshow on the history of immigration in the U.S. The slides, which Natale says she created in collaboration with a historian, included the name of a U.S. deportation program, which was named by the government and contained a slur. Some were critical of the posts for the inclusion of the racial slur and the lack of trigger warning. The post has since been deleted.
On August 9, Natale posted a series of slides starting with "the truth matters." In it, she apologized for the post and said she'd be more mindful of sharing language that may uphold "historical accuracy" but ultimately cause harm. However, it wasn't the post alone that people took issue with. "Throughout the last two days, it has been widely discussed that people feel I am not doing enough to be transparent about who is running this account," Natale wrote. "That was never my intention, and I apologize for any confusion that has come about."
Natale went on to talk about when and why she started the page. "This is not an 'anti-racism' page and I am not an 'anti-racism' educator," she wrote, likely alluding to the fact that her page often talks about race. "It has NEVER been stated otherwise." Natale said she has never made money off her posts, clarifying that she did one sponsored post with HBO last year and donated the payment directly to the ACLU. "I have never wanted this page to be about me," she added. "I wanted the issues I was breaking down, either on my own or through collaborations, to be what was important. I apologize that this desire has made people feel like I was trying to hide who I am or be nefarious about the work I'm doing." Natale then reintroduced herself, clarifying again that she is a white woman.
Oluo responded in her Instagram Stories.
In a recent series of Instagram Stories, Oluo addressed the backlash to the account as well as her previous interactions with Natale. Last summer, Oluo said, she reached out to the @SoYouWantToTalkAbout page after receiving an influx of questions about whether she was connected to the account. (She is not.) She said she asked for clarification on who was running the account, and also called attention to the similarities between the account's name and her book title. "What I got was not really a response," Oluo said. "My question about who's behind the account [was] completely ignored." After that conversation, Natale put up a disclaimer in the @SoYouWantToTalksAbout bio clarifying that the account was not affiliated with Oluo's book.
"I think this whole thing was really duplicitous and really shady," Oluo said. "And it's harmful." She said the number of people who have reached out saying they thought she was behind the Instagram account is "heartbreaking," adding, "It has been really frustrating to see these celebrities, these huge pages, share the work of a white woman that is capitalizing off of the work of other people of color and other marginalized populations."
Oluo was also critical of the rise in popularity of these types of bite-size social-justice accounts. "I am not interested in the meme-ification of anti-racist and social justice work," she said. "I am not interested in making this over-400-years complex system simple for white people to digest. I'm not trying to give you an easy way to feel like you have been doing something just by reading a post."
Criticism of these types of slideshows also isn't new. As Oluo points out, there's concern that these infographics oversimplify complex cultural issues, with audiences potentially using them as a sole source rather than a starting point. There's also the potential to capitalize on the work of uncredited scholars and activists, while remaining unclear about who is behind the account. The latter has become a greater concern among critics of Natale's account, especially given its similarity to Oluo's book.
"If you don't who know who's behind the shit you're consuming, there's a reason why," said Oluo.
Natale has publicly apologized to Oluo and renamed her account @So.Informed.
On August 10, the @SoYouWantToTalkAbout account posted a slide titled "I am listening" saying that "intentional conversations are happening offline." The next day, the account posted a public apology to Oluo, adding that it would be changing the name to @So.Informed. The account's bio now states Natale's full name and includes a note that she is white. Natale has also committed to being more transparent about her sourcing, saying she will give sole credit to contributors moving forward.
"That subscriber count isn't going away," Oluo said in her Instagram Story in response. "I hope that from here on out those 2.8 million people who come for easy, quick, feel-good information to help them feel informed will actually be connected to the people doing real work."