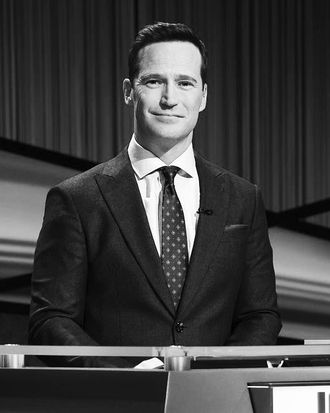 Well, that's done. The search for the heir to beloved Jeopardy! host Alex Trebek came to an anti-climatic end on Wednesday, when Sony Pictures Television named the game show's executive producer Mike Richards the new regular host starting next month. Sony also announced that The Big Bang Theory alumna and neuroscientist Mayim Bialik will be the show's first female host, taking over prime-time specials and spinoffs.
The announcement was met with mixed reactions. It's hard not to sigh at Richards's selection as the daily host when, over the past seven months, Jeopardy! has auditioned a slate of guest hosts that could have done an excellent job at succeeding Trebek. There was legendary former contestant Ken Jennings, internet favorite and award-winning host LeVar Burton, and the iconic Katie Couric, among others. Instead, it seems like Sony followed the tried-and-true way of corporate America: doing a big show of interviewing exciting, talented, "diverse" candidates, only to end up promoting the white man on the inside track, even if he has a few stains on his record, because no one else felt like "a good fit."
Richards's background has raised more than a few eyebrows. While he was an executive producer of The Price Is Right in 2010, multiple women sued the show for harassment and pregnancy discrimination. Former model Brandi Cochran said Richards reacted negatively when she announced she was pregnant with twins, and that she was terminated after trying to come back from maternity leave. Around the same time, former model Lanisha Cole said in a lawsuit that Richards would not speak to her, instead giving notes to other staffers to pass them on to her. The lawsuits were eventually settled out of court, with Richards being dropped as a defendant in Cole's suit. He has disputed the allegations, writing in a memo to staff last week: "The way in which my comments and actions have been characterized in these complaints does not reflect the reality of who I am or how we worked together on The Price Is Right."
Bialik's hiring was also met with pushback because of her past comments on vaccine hesitancy and sexual assault. Critics said that she promoted anti-vaxx beliefs in her 2012 book Beyond the Sling. They also pointed to an op-ed she wrote in 2017, which at the time was widely seen as blaming Harvey Weinstein's victims. Bialik apologized shortly after the opinion piece came out, and a representative said on Thursday that she is not an anti-vaxxer and that her family already received the COVID-19 vaccine.
For some Jeopardy! fans, the appointments feel like a classic bait and switch. When asked point-blank in May, "Was all of this just a ruse so that you could choose yourself at the end, like Dick Cheney running for vice-president?" Richards demurred and said the choice didn't fall on him. He then added that Sony was looking for someone who could host Jeopardy! for the next few decades, based on "the data and analytics, testing and focus groups and ultimately who we think the correct person is in the long term."
Good luck to them, I guess!
This post has been updated.