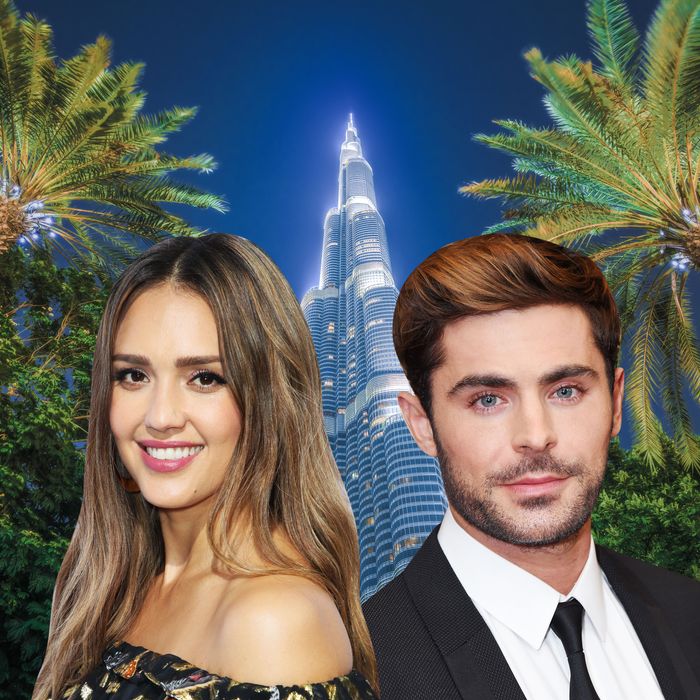 Photo-Illustration: by The Cut; Photos: Getty Images
What's keeping you from traveling to Dubai, hmm? Is it the expense? The ongoing pandemic? Are you sure it's not because hot celebrities have yet to tell you to go to Dubai? Okay, but does it change your mind to know that Zac Efron and Jessica Alba are featured in a new ad for Dubai? No? Huh. Well, I'm out of ideas then.
The ad looks as expensive as it does unhinged. While it features a couple well-known landmarks like the Burj Khalifa and the Museum of the Future's glowing NuvaRing, you barely see any of the city at all. It's mostly Alba telling Efron, "You're always putting work first," and the two of them parachuting off a helipad atop the Burj Al Arab. Does seeing a big helipad make you want to book your next vacation? Still no?? What will it take?!
If I may, I have some notes for any and all future tourism ads: instead of Efron punching people in a restaurant, why not show him eating complete shit while running on a beach? I would book international travel to pose next to the spot in the sand where Zac Efron did a big fall. Also, I question the casting choice. Perhaps next time, he could be featured alongside his beefy bestie the Rock. Or maybe the ad can star three different versions of Alba: Fantastic Four Jessica Alba, Honey Jessica Alba, and the Jessica Alba who appeared in Taylor Swift's "Bad Blood" music video. I would watch three Jessica Albas fight men in a restaurant.
Unfortunately, this fake-movie trailer for the Dubai pales in comparison to its superior predecessor: Australia's fake-movie trailer, which, I will admit, did initially seem like a real movie to me. Did that ad inspire me to travel Down Under? Absolutely not, but at least it was fun to watch.
Regardless, I will not be seeing the fake Dubai movie in person and will just *wait for it to stream for free.
*scroll through the Google Images results for "Dubai."