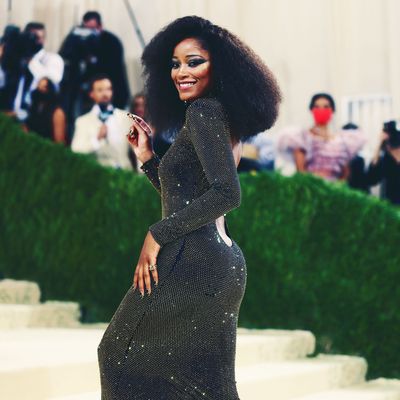 Photo: John Shearer/WireImage
If there's anyone who can handle the craziness that is the Met Gala red carpet, it is absolutely Keke Palmer. She gives us fashion! She gives us charisma! She gives us memes! It's no surprise she held it down like a pro at the 2021 Met Gala despite this being her first year in attendance.
Red carpets aren't always easy. Truly, how many times can you ask a man about his very boring black suit? And yet, as the co-host of Vogue's livestream with Ilana Glazer, Palmer managed to keep the 3.5-hour red carpet from completely dragging on. How does she do it? Natural talent? Magic? Nickelodeon residuals?
While I ponder these questions, you can check out some of the highlights of Keke Palmer on the Met Gala red carpet below. Please clap accordingly.
Duo of the Century
I would gladly watch six seasons and a feature-length film of Keke Palmer and Tracee Ellis Ross just gal-palling around.
"I'm Like Ron Burgundy, Just Put It in the Prompter and I'm good."
A personal highlight was every time Palmer's mic was still hot after she concluded her interview. A vamping extraordinaire!
Besties!!
Megan thee Stallion and Keke thee Palmer. Need I say more?
Timmy <3s Keke
To leave a lasting impression on Timothée Chalamet? Iconique!
Feeling Tall!
Something about Palmer greeting gymnast Simon Biles with the words, "so teeny, mama!" makes me feel comforted and safe. She is extremely teeny!
Asking Brooklyn Beckham Where He's From
Palmer looked at the son of soccer star David Beckham and said, "I don't know who this man is. Sorry to this man."
Insider Secrets!
To be a bedazzled fly on that wall.