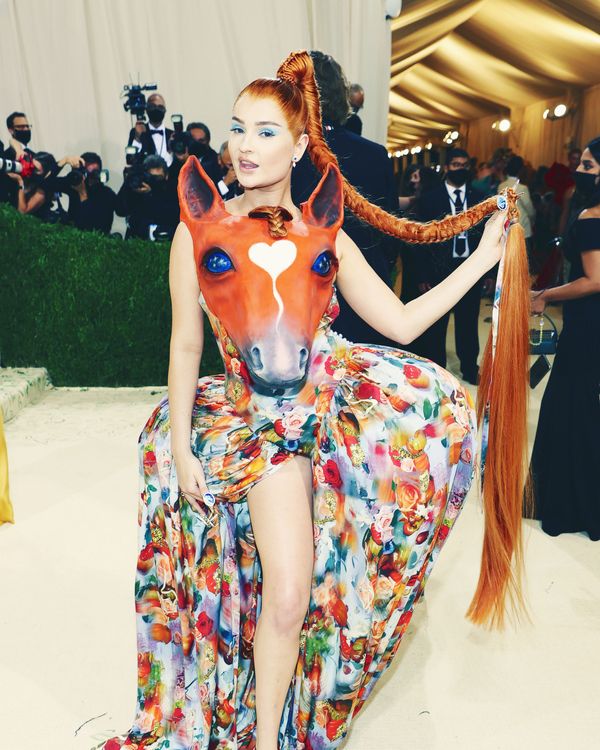 Kim Petras, 2021 Met Gala
Photo: Mike Coppola/Getty Images
This year's Met Gala theme was, "In America: A Lexicon of Fashion," a confusing directive to say the least. Based on many of the 2021 Met Gala looks, people heard the theme and said, "Okay, but how can I incorporate a crown?" However, one person who very much understood the assignment was singer Kim Petras, who showed up to the Met wearing a big ol' horse head. Giddy up, and furthermore, yeehaw!
Gaze upon Petras in all her Horse Girl glory:
The giant braided ponytail! The huge floral dress! If there's one thing that screams "AMERICA," it is absolutely a decorative horse head plastered onto one's chest. Petras was accompanied by Hillary Taymour, the creative director of Collina Strada, which was responsible for the equine look. Taymour wore a matching horse head as well. Unfortunately, neither wore horse-inspired shoes that went clomp, clomp up the stairs. Maybe next year.
See: All the Looks From the Met Gala
This is the second night in a row that Petras has delivered a look. At Sunday night's 2021 VMAs, Petras wore a black-leather bodysuit, full head covering included, underneath an embroidered Richard Quinn dress with pearl and gold detailing. Was there perhaps a little horse head underneath that dress as well?
Petras wasn't the only one who brought some yeehaw energy to the Met Gala. Singer Maluma showed up in what can only be described as an all-red Versace cowboy suit. Ironic that two of the celebs that arguably followed the trend the closest were a Colombian singer and a pop star originally from Germany. Let this be a lesson to all of us: The best way to be American? Horses!