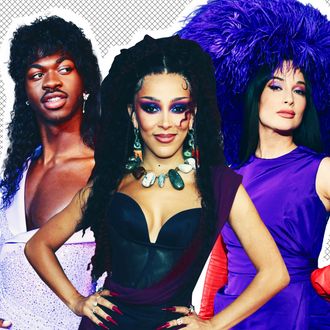 The 2021 MTV Video Music Awards look a hell of a lot different than last year's — as in, it's a live show again. Hosted by Doja Cat, and featuring performances from Lil Nas X, Olivia Rodrigo, Machine Gun Kelly, and Cinderella a.k.a. Camila Cabello — Lorde had to drop out, unforch — it promises to once again be the high-production, highly entertaining shit show we've come to expect (and love, admit it). And after a string of trying-their-best, socially distanced award shows, who cares if you don't know 60 percent of the "famous" "celebrities" there? (Also, by the way, nominees you do know include Ariana Grande, Justin Bieber, Taylor Swift, Megan Thee Stallion, Saweetie, Billie Eilish, and Drake. And dad band Foo Fighters will receive the first-ever MTV VMAs Global Icon Award, too.)
Anyway, that's not the best part: That's the red carpet. A live-airing VMA show, means a real-life VMA red carpet happening in real time. And historically, the MTV VMA red carpet does not disappoint. Expect capital-B Bold beauty looks, wild capital-F capital-M Fashion Moments, and probably some all-caps PDA. Keep scrolling to see for yourself.
The 2021 MTV Video Music Awards air tonight, Sunday, September 12, at 8 p.m. ET live from Barclays Center in Brooklyn.