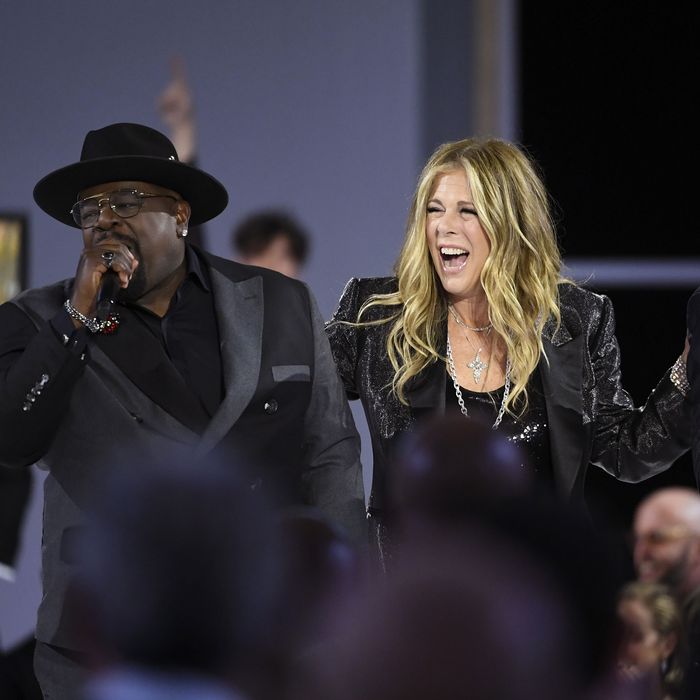 Photo: Phil McCarten/Invision/AP/Shutterstock
When there was a joke about The Fly, it was clear we were in trouble. And yet somehow that callback to the 2020 vice-presidential debate, which itself wore out its welcome hours after it occurred on October 7, 2020, was not even the most groan-spurring moment from the 2021 Primetime Emmy Awards.
Given that this should have been a triumphant return to in-person awards shows, after last year's admirable though bleak Pandemmys (remember the hazmat-suited delivery guys?) and those nervous Oscars last spring, it is especially mind-boggling how awkward, cringe, and generally dull this show turned out to be, as broadcast by CBS on September 19.
It's unclear where or at whom fingers should be pointed. Sure, there were a few wonderful moments — hi, wins for Michaela Coel and Jean Smart — but if the networks are serious about reversing the trend of ever-declining viewership for awards shows, they did nothing to help their cause last night. For one, host Cedric the Entertainer did no such thing, and any attempts at "bits" fell flat; Ken Jeong's "stuck outside the entrance because he wasn't providing satisfactory proof of vaccination" schtick was especially embarrassing. I refuse to discuss Rita Wilson's rap.
The "skits," if we can even call them such, were particularly rough and really beg the question, who do the Emmys think they are for? We want to see our favorite stars, glam and unrecognizable from their characters onscreen. Instead, those of us sitting at home watching the show, our thumbs raw from scrolling Twitter, are being told via song-and-dance number to watch television. We are, in fact, already watching television, and if we've chosen to tune into the Emmy Awards, it's a safe bet we do quite a lot of that as is!
And did the presenters, all of whom are professional actors paid to say words on camera, appear to be straining pretty much across the board to you? After a year and a half of limited social interaction, I get that some of us are a little rusty when it comes to being a human person in public. But the audience holding its collective breath as it waits to see whether a stilted line delivery is part of some pre-planned joke isn't live television suspense, it's exhausting.
Speaking of exhausting, the show clocked in at over three hours, and for what? There were many trophies that needed to be handed out, yes, but how much of that time actually went to recognizing achievement in television? Again, we will not be talking about Rita Wilson's rap here. Awards shows should last exactly two hours, no more. That's exactly the length of time needed to get in, clap for the year's best work on the small screen, and get out unscathed.
There are a number of other ways these Emmys could have been, if not salvaged, then at least made something better than the giant huh? they ultimately turned out to be. To that end (though this is a memo for winners more than the Emmys themselves): Take the music cue. Certainly one of the evening's most egregious moments came in the form of The Queen's Gambit director Scott Frank accepting his award for an outrageous four minutes, ignoring three separate "wrap it up" prompts. Frank, likely, thought it was an act of self-possession, having just seen Debbie Allen do the same while accepting her lifetime achievement Governors Award. In reality, it was just a white man disrespecting the time of everybody else in the room, and especially the other winners who did keep it brief. Shocking!
Which brings us back to Coel, who was nominated for starring in, directing, and writing her HBO limited series I May Destroy You. She won in the latter category, taking the stage directly after Frank with a speech that lasted 53 seconds and ended with a dedication to survivors of sexual assault. The contrast to the previous winner was obvious and stark, but the win also exemplified what may truly be the way forward for the Emmys: putting the focus back on the work itself and those who make it.
Barry Jenkins's The Underground Railroad walked away empty-handed last night, but how great would it have been if the bloated broadcast had allocated any of its time to highlighting that singular achievement? It may have even gotten a few more people to check out the little-viewed series. Instead, we had an opening segment that included Rita Wilson — not doing it! — and LL Cool J, whose persistent presence at awards shows makes less sense every year.
The night also included a couple inexplicable callbacks to the Met Gala, held earlier the same week, which (though it was of course a ridiculous spectacle) only served to underline the snoozefest that was this ceremony. If this was its best attempt to rejoice at the ability to once again gather after an industry-upending crisis, these Emmys would have been better off sitting on the couch in quarantine.