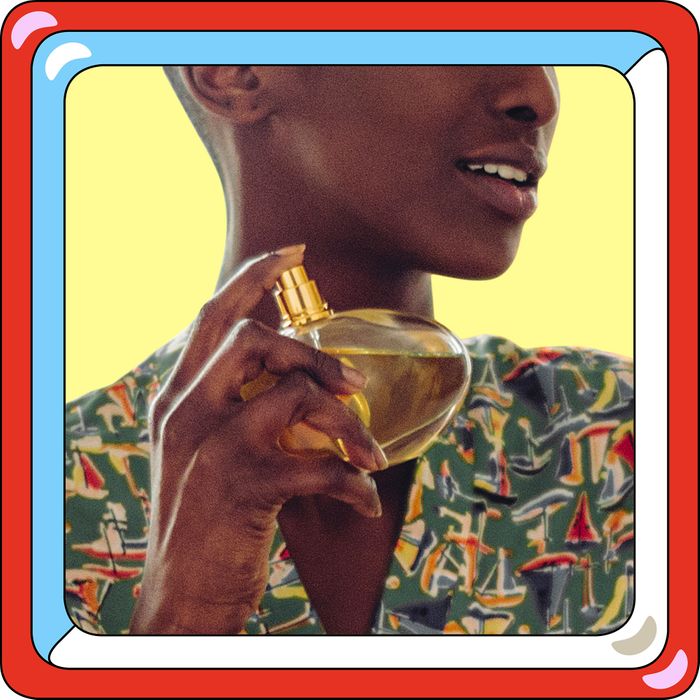 Photo-Illustration: The Cut. Photo: Eva Katalin/Getty Images
To grow up Black is to have some relationship, no matter how tenuous or fleeting, to fragrance. Someone in your life — whether it be your grandma, your mom, your teacher, a lady at your church, or your swagged-out uncle — had a scent that entered the room before they did and lingered long after they left. It could be Chanel No.5 or perfume oils purchased by the bottle at a street fair or shop, but the relationship often ends with consumerism. Nielsen reported in 2018 that Black people were the biggest consumers of fragrance, responsible for 23 percent of the market (which translates to $151 million) while making up 14 percent of the population. Despite being such avid consumers of fragrance, Black people are rarely, if ever, represented in the industry — whether in advertisements, behind the scenes, or in retail spaces. Currently, Chris Collins, who helms the eponymous fragrance line World of Chris Collins, is the only Black perfumer in luxury retailers like Bergdorf Goodman and Nordstrom. But that doesn't mean Black talent is otherwise nonexistent in the space. Black perfumers do exist — as do reviewers and retailers — they're just few and far between. The Cut spoke with five professionals shaking up the industry, who shared their career journeys, their hopes for change, and why diversifying the scent world is a priority.
Maiya Nicole, Black Girls Smell Good
Maiya Nicole got into fragrance by way of her mother and grandmother, whom she describes as "huge fragrance heads." They gifted her her first "big-girl fragrance" when she was 8 years old — the now-discontinued OP Juice for women. "I thought I was the hottest thing on the block," she says. "I definitely sprayed too much." As she got older, her love for fragrance grew. She worked at Nordstrom as a beauty stylist before moving on to Saks, where she amassed a clientele of fragrance enthusiasts who liked her inclusive approach to selling perfume. "These bigger houses and brands didn't train us in a way that was easy to understand. They taught us to talk above the consumer so we could position ourselves as the only expert," she explains. She was laid off in the early days of the pandemic and pivoted to talking about fragrance online. She wanted to create a space like Black Girls Smell Good because most of what she encountered on Instagram was, as she puts it, "very beige." She posted her first TikTok in April of this year — a walk-through of a Le Labo boutique with the caption "Should I do an unboxing?" It achieved moderate success by TikTok standards, but her first viral video was the inaugural installment of her "Fragrance 101" series, in which she offers "a safe space to learn about fragrance without feeling like an outsider." This ethos is what guides her platform, which has expanded from TikTok to Instagram (she has nearly 90,000 followers on both combined). Her community, she says, is broken down into three categories: The OGs are longtime fragrance lovers with impressive collections, the enthusiasts are familiar but eager to learn more, and the newbies are completely new to the space. "I try my best to make the content educational and interesting, so even if you're a veteran, the information doesn't feel redundant," says Nicole. "I want everyone to feel like they have access to the same information."
She also uses her platform to spotlight Black-owned perfume brands such as Genre ("Devin Breaux's brilliant," she says of its founder), Elemental Fragrance, Savoir Faire, and Maya Njie. "I've had the most luxurious perfumes, but it was different opening a perfume from Genre or Savoir Faire. Knowing that it came from someone who looked like me and was going to circulate money back into the community, it gives me joy to spotlight them," she explains, adding that their quality is also incredible. "If more people knew how good it is, it'd be a problem."
Kimberly Walker, Kimberly New York
Born in Jamaica and raised in Florida and New York, Kimberly Walker — whose eponymous line has appeared in publications like Cosmo and Allure — creates fragrances for men and women. She decided to start her brand after ten years of working with customers in the fragrance industry. "I was selling fragrances behind the counter, and I was constantly pushing French fragrances," she says. "It was so weird to me that I never encountered a brand owned by a Black person." Her clientele were mostly Black and brown people, so seeing that gap in representation, she decided to start a brand of her own. She spent a few years building her label and teaching herself perfumery and cosmetic chemistry through YouTube tutorials and articles. It took 29 iterations to finalize her first fragrance. It was a hit with her friends, and soon after, she decided to bottle and sell it.
Walker's big break came when Essence named hers the "only Black-owned fragrance you need to try" on National Fragrance Day. At that time, she was selling her discovery scents for $5 a pack in hopes of getting her name out there. Now those same sets start at $25. Her brand continued to expand its footprint when she launched her Echelon collection, which she describes as a love letter to Black men. "There was finally a fragrance that celebrated them, who they are and what they contribute. I let those kinds of themes run through all my fragrances," she says. Her latest collection is called Diaspora and is a celebration of all facets of Black culture. While she likes centering her work on Blackness and the Black experience, she hopes her brand — and other Black-owned ones — can transcend being mentioned solely on the basis of race. "I want to be embraced by everyone simply because [my perfume] smells good," she says. "I want to compete with Estée Lauder, Lancôme, and Chanel."
Dawn Marie West, La Botica
Dawn Marie West launched La Botica in 2018 as a way to expand her creativity, but the brand really started taking off after the racial reckoning of 2020. Suddenly, she was on roundup lists of Black-owned brands to shop (including ours) and taking meetings with large retailers. (Soon you'll be able to shop La Botica at Revolve). The brand's first offerings included candles named for far-off locales like Barcelona and Casablanca in minimal Byredo-esque packaging; the perfumes came later. This, explains Dawn, was because of difficulties accessing resources. The traditional route to perfumery, which would include studying somewhere like the Grasse Institute in France, is both prohibitively expensive and historically inaccessible. Each year, the institute admits only 12 students, and tuition costs roughly $15,000. In the past five years, just one of those students has been Black. Dawn opted to teach herself. "When I looked into places I could study, I realized how representation for Black perfumers is virtually nonexistent," she explains. "Classically trained perfumers are chosen by lineage, so getting into school or going abroad is really difficult." She studied plant-derived and synthetic compounds and essential oils and resins to figure out what makes up a perfume and quickly learned how expensive it could be. "One essence or compound can be thousands of dollars on the pound," she says.
But she wouldn't trade the experience. Being self-taught, she says, allowed her to create without boundaries and incorporate scents inspired by her Black and Dominican roots. One of her newest, Flor de Selva (currently available only in candle form), has notes of Dominican orange, resin, Pimenta, cypress, nutmeg, and cedarwood. West collaborates directly with indigenous Dominican communities to source her fragrance oils. "It's exciting knowing that I can create a narrative of what the Dominican Republic means to me," she says. "These are ingredients my grandparents used."
Ezra-LloydJackson, Perfumer's Assistant at Olfiction
After dropping out of university twice, Ezra-Lloyd Jackson ended up working at Roullier White, a London boutique that stocks a large selection of niche fragrances. Although he wasn't exactly in love with retail, he was fascinated by the way independent brands could communicate their vision through scent. Increasingly interested in the business of fragrance, he asked Roullier White's founder, Michael Donovan, if he knew anyone in a lab. Donovan connected him with Nick Gilbert, the director of the fragrance consultancy Olfiction, and soon after, Lloyd-Jackson started working there as an assistant. "I was really curious about everything, and even though my science level stops at GCSE, I still wanted to learn," he says. In the past three years, he has climbed the ranks at Olfiction, going from cleaning up the lab to chiming in on creative briefs. Recently, he had the opportunity to work on a fragrance for Ford.
In addition to growing his own career, Lloyd Jackson wants to make more space for Black people in the fragrance industry. "There's a huge imbalance of power in supply chains," he says. "I always say, Same disease, different symptoms. We live in a white-supremacist world, and that transcends to everything, including fragrance. Just because we can't see it and touch it, it doesn't mean it doesn't exist. I want to leave this industry having improved that by one small bit. It's such a privilege to do this. If you had told my grandma, who came here in 1958 from Kingston, that her grandson would be a perfumer, she would laugh at you for sure."
Kimberly Waters, MUSE
Kimberly Waters opened Modern Urban Sensory Experiences, or MUSE — the only Black-owned fragrance boutique in New York City — in the parlor floor of a Harlem brownstone. There, customers can take in a mix of art, oversize coffee-table books, and, of course, scents. MUSE carries only a few perfumes at a time, and visits are by appointment only, ranging from a guided walk-through to a solo, hour-long exploration of the space. In May 2021, T Magazine dubbed MUSE a beauty destination, alongside shops like clean-beauty retailer Shen and Atelier Beauté Chanel.
Before she was a business owner, Waters was a fragrance enthusiast and blogger. Although she has plenty of scent-related memories from childhood, she really started getting excited about perfumes in her 20s. "It allowed me to explore who I was as an individual," she says. "It was my vehicle of self-expression." In those days, she bought everything that smelled interesting to her, frequenting niche fragrance boutiques in Brooklyn and Soho. She also joined a fragrance community that gave her access to the industry. She was able to visit Symrise, a major fragrance manufacturer; attend events; and connect with perfumers. Soon enough, she realized that most of the people at the events and in the boutiques didn't look like her. She wanted to change that but didn't exactly know how. In the meantime, she took jobs at Coty, Saks, and Kilian and traveled around the world in the name of fragrance.
Eventually, she figured out she wanted to bring niche fragrances to audiences and redefine how people connect to scent. She was the first to stock the Black-owned, U.K.-based brand Maya Njie in the U.S., and it can now be found all over the world. She connected with the eponymous line's founder over WhatsApp, where they complimented each other's energies and aesthetics; soon after, Waters was figuring out how to import its perfumes to the U.S. Now it's a top seller. Many of Waters's career developments have happened this way — organically and intuitively. Waters also prioritizes mentoring perfumers who hope to be in retail stores but need guidance with formulations, branding, or both. She offers internships to young people interested in careers in fragrance, who study with her for six weeks and learn how she runs her company. She hopes to one day open a fragrance school and bring the industry to the Black community. "I want people to see Black perfumers, evaluators, and marketers," she says. "I want the full spectrum of what fragrance can offer and the diversity it can offer. And I want to be at the helm of it. That's what I'm working toward."