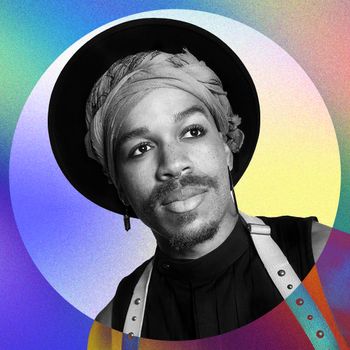 Photo-Illustration: by The Cut; Photo: KÉRASTASE
Vernon François is a curly hair genius. The L.A.-based hairstylist works with a repertoire of celebrities with all types of hair, including Willow Smith, Serena Williams, and Amandla Stenberg. In 2016, François started his own line of hair-care products to provide a line of consistent, quality, and reliable resources for curly hair care. In addition to his own line, François now acts as global inclusivity adviser and educator for Kérastase, helping to bring to life the purpose and messaging of their Curl Manifesto — a line of products designed to meet the needs of women with curly or coily hair.
François talked to the Cut about his own eponymous hair-care line, his inspirations, and of course, curly hair.
Do you see beauty as self-care? Why or why not?
Yes. Caring for hair involves getting to know it and doing the best for it, which is part of caring for oneself. Regularly treating your hair well, preparing it, styling it, recognizing what it does or does not want to do, and respecting that, and getting to know the best products and ways of working with hair's true texture — these are caring actions. How we care, cut, or style our hair can be linked with identity, culture, tradition, and above all, a sense of self.
What is the biggest misconception about curls?
That they are more hassle than wearing hair that's been straightened. Styling hair in a twist-out can easily last for several days. There are things you can do to help: Not over-manipulating curls, preparing hair before going to bed, sleeping on a silk pillowcase or using a silk cap at night, wearing a shower cap and removing it afterwards in a room that's not steamy. Also, the Refresh Absolu in Kérastase's Curl Manifesto range is designed to reactivate curl patterns as well as shield from humidity for moisture, shape, and shine.
What is the biggest issue with curly hair education?
The knowledge gap relating to curly and coily hair textures is a product of bigger issues at play than simply curly hair education. There is much wider social context to be considered around hair textures being deemed commercial and desirable or not. It is true that individuals are led to believe their hair is not beautiful when salons and stylists lack the skills to serve them. Kérastase is helping to close this gap with a proactive education strategy for hair salons and stylists, globally. Professionals are being equipped with Curl Manifesto plus have access to enhanced training, which, as the brand's global inclusivity advisor and educator, I am happy and excited to be a part of.
Do you think beauty has changed because of the pandemic?
With salons being shut for so long, the pandemic led to people having to take responsibility for their own beauty regimes, which resulted in a shift in approaches to hair. Expectations became much more realistic as maintenance and upkeep came down to the individual. People had little choice but to become accountable for things like upkeep, which resulted in a huge reset. Hair's true colors, true textures, and true shapes were revealed, and a lot of people chose to embrace that instead of battle against it. We have gotten to know our most authentic selves in many ways.
Have you noticed a change in your clients' attitudes since the pandemic?
A lot of my clients have been more relaxed about showing their true hair colors and true hair textures since the pandemic. I've also noticed people are more ready to dramatically change things, with bold new cuts or attention-grabbing colors, living out the notions of reviving and refreshing. Embracing individuality is important, so if someone is toying with the idea of going from long to short, I'll say go for it. It will always grow back. Same with color, it can always be changed. You only regret what you didn't do, they say!
What is the best affordable beauty product?
The word affordable means different things to different people. Personally, I am a fan of professional hair-care products and find them to be worth the investment. Doing your best with as much or as little as you have is what counts. The MIST~ Nourishing Water from my own hair-care line is one of the best buys around, with purest water infused with amino acids, botanicals, and moisturizing natural oil to refresh and prepare kinky, coily, curly, wavy, and straight hair before styling.
What inspired you to found your own hair-care line, Vernon François Haircare?
In 2016, I was inspired by solving my clients' frustrations. Central London salon clients would tell me they were tired of not being seen, spoken to, and loved by beauty brands and retailers. They were tired of having to go to out-of-town stores to find products for curly or kinky hair, and tired of thick, heavy, greasy products. Net-a-Porter immediately supported my vision before the line had even been created, which massively spurred me on, confirming what I already knew — that there was a real need for this range.
What was the most challenging part of starting your own hair-care line?
It was creating this completely independent start-up from scratch. It turned out that a young male hairdresser from a small town in northern England, who happens to be Black, gay, and dyslexic, was not the first choice for many venture capitalists. There were times when I could have passed the project on to a third party to manage, but I decided to grow and learn along the way. I lead everything from new product development to how the bottles are presented with my dyslexia-inspired iconography and color coding. Driving the brand with the insight from my many years as a professional hairdresser means I know firsthand what kinks, coils, curls, waves, and straight hair respond to best, in multiple environments.
What's the most important bit of hair-care advice you can give?
To know that what is naturally yours, is good enough. Whether you have hair, have no hair, or used to have hair, and no matter the texture, be it kinky, coily, curly, wavy, or straight. There's nothing wrong with wanting to change your look, but learning to embrace what is uniquely yours first and foremost is vital.
What product in the Curl Manifesto range is most important for hair care?
My advice for anyone wanting their best-ever hair is to think about the nutrition and hydration you put into your body, because it will show on the outside, and look to the foundation of your hair-care regime, starting with shampoo. The Curl Manifesto shampoo is a fundamental part of this collection for manifesting your greatness. It's sulfate-free, so gently cleanses the scalp and hair while hydrating, and helps to enhance the pattern and volume of all curls and coils.
What do you wish more people understood about what you do?
My take on hair texture; defining it solely by the shape that strands make — be it kinky, coily, curly, wavy, or straight. Understanding what hair texture, or textures, you have is important for setting expectations on what can be achieved with it, caring for it, and embracing it. As a very dyslexic person, I use language very literally. I understand Black hair relating to its color, and natural is hair in an unprocessed state — both can apply to kinky, coily, curly, wavy, or straight hair. At the same time, I understand and respect why things are the way they are, and that certain phrases are deeply rooted in society.
What was the biggest "no" you experienced in your career and why does it stick out to you?
I am often being told "no" and that something cannot be done, and whenever faced with this, I do my best to find a way around it. So every no usually leads to a door unlocking, even if it's different to the one that I was expecting. While creating my brand, I was told that developing a rich rinse-off hair conditioner as a spray was impossible. Until then, wash-out conditioners had always been thick and creamy — the conditioner sprays in my collection are, as far as I know, the first of their kind in the world. If you are determined and truly believe in something, it can be done. If you have a vision, it can be achieved.
Where do you want to see the beauty industry go from here?
There are many answers to this question, and one thing that I'd like to see continue is people being hired for jobs who have the right skills, abilities, and life experiences, as well as qualifications. Life experience is crucially important for positively impacting many things including decision-making. Within beauty, this has a knock-on effect on representation, what we are presented with, how it is shown, and why. In magazines, advertising campaigns, and beyond, I'd like to see greater authenticity, not unrealistic ideals. I'd also like to see it widely acknowledged, shown, and appreciated that beauty comes in many forms. I'd like for hair and beauty spaces to become more non-gender-specific and welcoming of individuals no matter the age, gender, culture, skin tone, ability, and for inclusivity to be true to its word, including everyone.