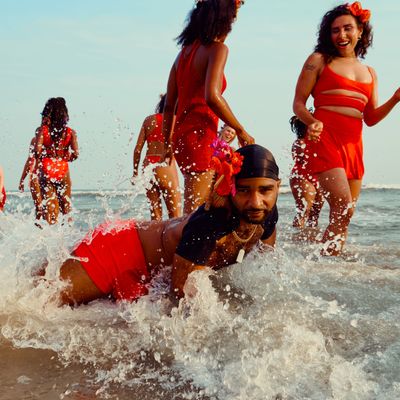 On Sunday, about an hour car ride (or an hour ferry ride, past the Statue of Liberty) away from the usual New York Fashion Week happening, there was a special kind of runway show. Chromat, a bodywear label, had a pop-up show on Jacob Riis Beach, also knows as "The People's Beach," a popular destination for the queer, trans, and nonbinary community in New York City. They showed the latest collection in collaboration with artist and filmmaker Tourmaline titled 'Collective Opulence Celebrating Kindred,' or C.O.C.K.
The cheeky name comes from the intention behind the collection. During the pandemic, Tourmaline slid into designer Becca McCharen-Tran's Instagram DMs about collaborating on a collection celebrating trans femmes, non-binary, and intersex people "who don't tuck." Inclusivity is often thrown around in fashion, but Chromat has been dedicated to it since it was founded in 2008.
"It feels like this watershed moment where we really get to be who we are wherever we go," said Tourmaline ahead of the show. "And that doesn't mean that bulges are a more powerful way of being. It means that we want to be able to have a range of options where all of us can be present. It's really about the abundance of our community."
During the design process, Tourmaline offered her input on what might make people more comfortable. "She tried on all of our swimsuits and would give feedback like, 'Maybe the gusset could be wider here' or 'This needs more room in the front here.'" Every item in the spring collection is available in sizes XS to 4X.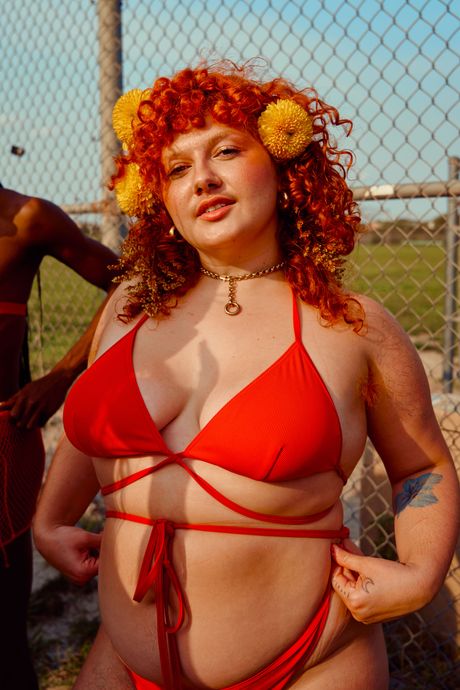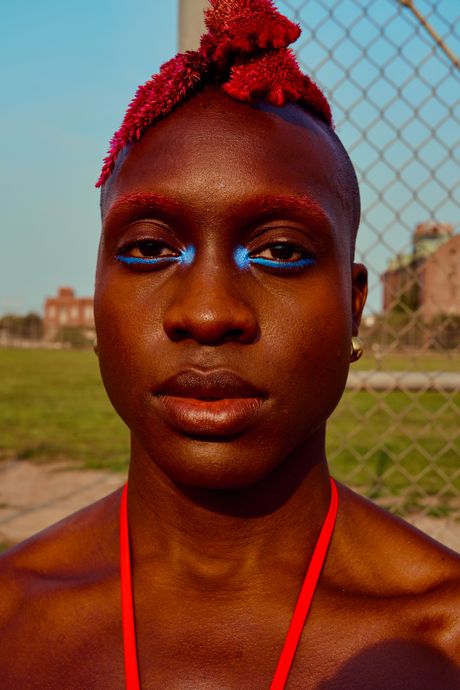 Even before the collection was designed, McCharen-Tran knew that she wanted to show at Jacob Riis Beach during fashion week. "There's no place like it," she said. "The show was always meant to be an offering to Riis and to the community there that we're a part of."
McCharen-Tran notices more people wearing the brand at Riis than any other beach. People who happened to be on the boardwalk gathered to watch and called out the names of the models who strutted the boardwalk in all red looks — swim skirts, monokinis, shorts and swim bottoms with soft package pouches and matching bikini tops. "It was very lifeguard inspired," McCharen-Tran said after the show. "We wanted to kind of have a protective element to it and think about safety. And red hot cherry is just vibrant and radiant, which is so much what Tourmaline is about. Every decision we make is about what will bring joy."