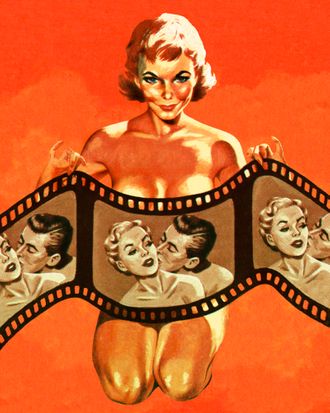 Photo: CSA-Printstock/Getty Images
My feverish devotion to, and ministry of, sensuality in cinema makes me a mystic. I mean "mystic" in the medieval Christian sense. Back then, erotic desire was deeply intertwined with spiritual transcendence. Communing with a higher power was the best sort of orgasm. I've even worked out an ornately Gothic tableau of me as religious statue: I'm draped head to foot in a loose garment. My feet are bare, the left one provocatively displayed. My eyes are shut, mouth open, swooning in ecstasy. Standing before me is a winged youth who pierces my heart with a golden spear and sends me into a trance. Thirsty, no?
I was born and raised in the Philippines, the only predominantly Catholic country in Asia. The Philippines is extremely religious, often neurotically so. I spent 17 years in Catholic schools (and four of those as an altar boy), kindergarten through college. The specter of those years is all over my work. My characters are torn between clashing moral impulses: the spirit and the flesh, light and dark, virtue and sin. In my films before Lingua Franca, sex is typically shrouded in guilt or shame. In my latest, the short film Shangri-La (which had its world premiere at the Venice Film Festival), however, a woman turns up at a church confessional in the dead of night and says confession to a paramour roleplaying as a priest. Here, desire is information. An invitation to stare inside the depths of one's soul.
The evolution of my artistic sensibility is the evolution of my perception of the relationship between sexual desire and spirituality, particularly as a queer person. I got to where I am now after moving to New York, and after years of excavating and uprooting deeply entrenched beliefs (of both life and filmmaking), of deprogramming my mind. Coming out as gay and then transitioning set that process in motion. While making Lingua Franca, I relied purely on intuition for the first time as a filmmaker. What surprised me most is that, inhabiting my protagonist Olivia and expressing her sexual desires after tamping them down in my own life and art for the longest time, not only was there no shame or remorse, I felt like I was coming alive. That this business of wanting and yearning presupposes the existence of an inner self and an imaginative life. "I desire, therefore I exist," thus becomes a potent assertion of my selfhood, agency, and capacity for transcendence. If that's not a spiritual experience, I don't know what is.
Any movie can have graphic, balls-out banging — hello, porn — but it's the element of desire, more than sex, that defines sensual cinema. It's the sense of craving and pining that imbues a film with erotic heat, and this hunger must feel credible and palpable enough to turn the audience on. You can show as much sex as you want, but if the audience cannot vicariously feel that throb of desire fueling it — which can be achieved by a combination of aesthetic choices, the performances, and onscreen chemistry between actors — the sex will ultimately remain skin deep. In my personal rulebook on sensual cinema, less is more. Suggestion and evocation go a long way in seducing the audience.
Masterpieces of sensual cinema — films like Wong Kar-wai's In the Mood for Love, Jane Campion's The Piano and In the Cut, Sofia Coppola's The Beguiled, Céline Sciamma's Portrait of a Lady on Fire, Steve McQueen's Lovers Rock, and Barry Jenkins's Moonlight — are coquettes. They tease and flirt and take you to the precipice, only to leave you hanging, as when Adèle Haenel and Noémie Merlant part ways at the end of Sciamma's opus. Desire is felt more acutely and cuts deeper when it is frustrated or merely suggested more than fulfilled. In art, as in life, it's the one who got away who stays with us and haunts us, and films that expertly bring about this state of cinematic "blue balls" represent the pinnacle of sensual cinema.
Admittedly, my campaign to revive sensuality in contemporary American cinema is self-serving. Exploring and depicting desire in cinema — depending on whose gaze it privileges — can be politically transgressive. A film that showcases desire from a decidedly non-male gaze (a rarity) centers a perspective and subjectivity that is decidedly not that of the Establishment. Seeing the world of the film through their eyes, we experience their reality as a woman, a person of color, or a queer person. When we explore the workings of that sexual desire in a clearly defined sociopolitical or economic setting, we expose the inherent inequities and power differentials at work in such a society.
When queer and women artists plumb desire and the erotic drive, they describe a need or desire that is not merely physical but psychologically and emotionally fraught and that may become intertwined with the creative process, as in Sybil by Justine Triet and Shirley by Josephine Decker. Cinematic portrayals of desire can include but are not limited to sex scenes. For instance, practically each frame of Beau Travail by Claire Denis, Carol by Todd Haynes, and Cannes Palme D'Or winner Tropical Malady by Apichatpong Weerasethakul quiver with desire. The emphasis is on the desiring, regardless of the proverbial release or climax.
The more a film pulsates with desire, the deeper it plumbs from the most intimate and vulnerable recesses of an artist's psyche. What results is a work of art that feels spiritual, at times sublimely so. Quite the paradox, really: Catholicism led me to believe that the spirit and the flesh are archenemies, but my own creative process — one freed from dogma or prudish conventions — taught me otherwise. The sensual and the spiritual feed off each other. This epiphany has kept me chasing after cinematic orgasms in my work since — and pulling back right at the moment of climax. I even coined a term for it: ante-climax.