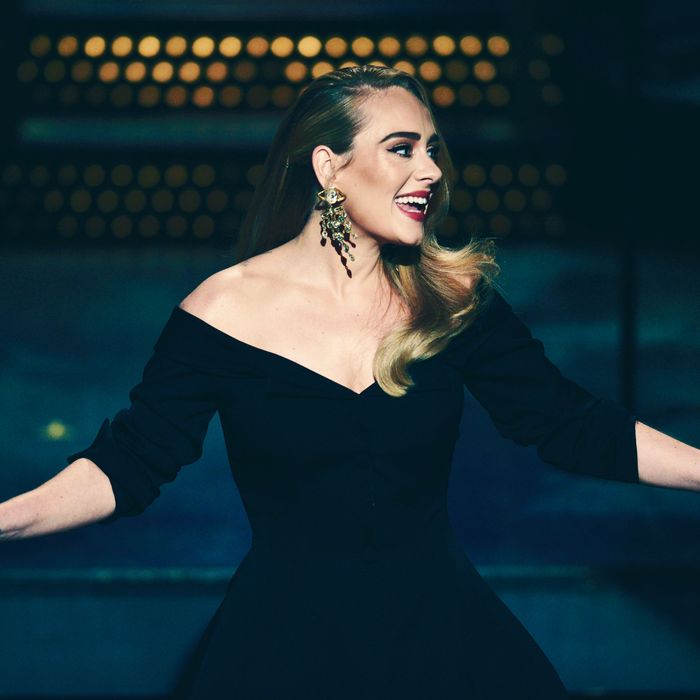 Photo: Will Heath/NBC/NBCU Photo Bank via Getty Images
Ever since Adele and LeBron James's agent, Rich Paul, were spotted together this summer, rumors that the two are dating have circled the internet. (Not to be misread as "Adele is dating LeBron James" — an easy mistake to make, and one that led me to imagine a world in which LeBron and Adele regularly do "Carpool Karaoke.") Now, it looks like Adele has finally confirmed the relationship, posting a photo with Paul on Instagram, which, according to "Page Six," is from NBA star Anthony Davis's wedding in L.A. this Saturday.
In July, Adele and Paul were first seen together courtside at game five of the NBA Finals. After the game, ESPN's Brian Windhorst appeared to confirm the two were dating on an episode of the sports podcast The Lowe Post, referring to Adele as Paul's girlfriend. Since then, the pair has been spotted out together more and more frequently, including dining out in New York and Los Angeles and attending a 35th birthday party for LeBron James's wife, Savanna James.
This is Adele's first public relationships since getting divorced in 2019. Last year, Adele was connected to British rapper Skepta, though it appears that relationship may have been platonic. That same year, Adele was spotted on a boat with Harry Styles, but again, that seems to have been more fanfiction fodder than confirmation of a relationship.
While it's unclear how they met, Paul apparently has some music-industry experience, as Drake credits the sports agent with convincing him to make "Best I Ever Had" his lead single off an early mixtape. The song went on to become Drake's first top-ten single. Perhaps Paul can lend that expertise to — oh, I don't know — a new Adele album???
This post has been updated.