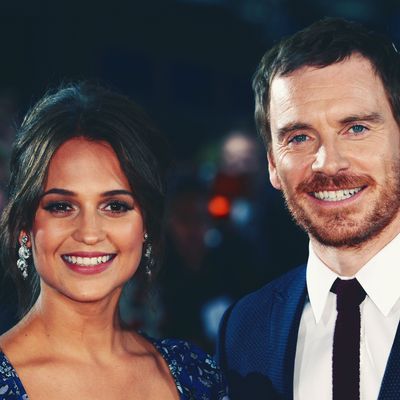 Photo: Anthony Harvey/Getty Images
Another mystery-celebrity-baby case has been cracked. Alicia Vikander and Michael Fassbender, a notoriously private couple, have been emitting some very, uh, familial energy over the past month without having confirmed a pregnancy or birth. Now, Vikander has finally informed People that she and her husband did have a little Fassbaby earlier this year, which makes sense considering the couple spent most of August bopping all over Europe with a mysterious baby in their arms.
First, Fassbender was spotted in Paris on the set of Vikander's movie Irma Vep, carrying a baby and wearing some gray sweatpants that essentially announced, "I'm a hot new dad." Fassbender himself declined to confirm anything, however, and the rumors intensified when the couple arrived in Ibiza accompanied by (presumably) the same child.
Vikander has finally confirmed that she did indeed give birth at some point this year. She declined to share more details about her family life, though she did tell People that motherhood has given her "a whole new understanding of life in general." Aww. Congratulations to these now very tan new parents!