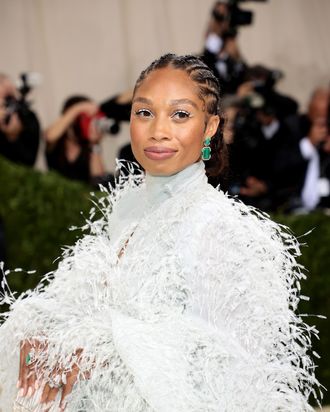 Photo: Dimitrios Kambouris/Getty Images
Last night, Olympian Allyson Felix joined fellow athlete Simone Biles and their partner Athleta on the red carpet to make their Met Gala debuts. The most decorated American track-and-field athlete in Olympic history swapped her spikes for Fendi heels, and her signature statement necklace made from her record-breaking 11 Olympic medals (seven gold, three silver, and one bronze, to be precise) for a high-neck Fendi couture gown covered in 240,000 ostrich feathers and crystal beads.
"I keep my look simple in my everyday and when I'm competing, so being able to dial it up and try something bold is so fun for me," said Felix. "My entire career has been about being strong and feminine at the same time, so I love that my team was able to create a look that delivers both power and lightness. I still feel like me, just a more dramatic and glamorous version."
"We wanted to go with something chic and edgy that could still showcase Allyson's personality," said hairstylist Alexander Armand, who braided a halo of cornrows using Qhemet Biologics Castor & Amla Nourishing Pomade to amp up the shine and used extensions to create a textured chignon at the nape of Felix's neck. "The texture replicates the texture of the dress, and we wanted to play with a structured braid but still keep the hairline soft and feminine." Baby hairs styled into romantic swirls did the trick and were a frame for Felix's face.
Makeup artist Autumn Moultrie blended three different shades of the long-wear, but non-cakey, KVD Good Apple Skin-Perfecting Hydrating Foundation Balm to create a natural-looking finish that was flashback-free for all the photo-ops. She then amped up the dewy factor by contouring with KVD ModCon Long-Wear Hydrating Liquid-Gel Contour in two medium shades and topping the cheeks with another gel formula, KVD Beauty ModCon Liquid-Gel Blush in Luminary, a peachy beige, and Glowlita, a dusty rose.
For a your-lips-but-better look, Moultrie applied KVD Epic Kiss Nourishing Vegan Butter Lipstick in Lolita, a chestnut-y rose, and topped it with KVD Everlasting Liquid Lipstick in the same shade to make it both maskproof and dinnerproof.
The main attraction, however, was the crisp white liner Moultrie flicked upward and outward to mirror the feathers on Felix's gown. The artist painted on KVD Beauty Super Pomade Vegan Eyeliner, Shadow & Brow Pigment in White Out, a multiuse pigment. Felix's impeccable brows were sculpted with the same pomade in the shade of walnut.