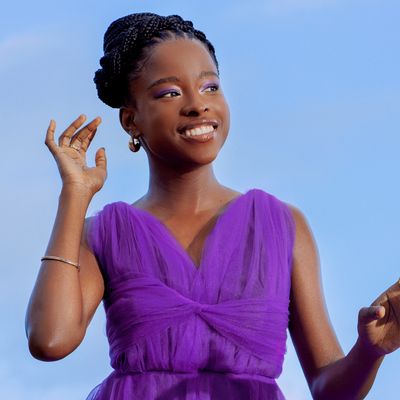 Amanda Gorman.
Photo: Courtesy of Estée Lauder
Twenty-three-year-old Amanda Gorman, inaugural National Youth Poet Laureate, current Met Gala co-chair, and model with a master's in Making History in Statement Coats, is officially adding beauty-brand ambassador to her increasingly impressive résumé.
After revealing in her Vogue cover story that she turned down around $17 million in advertising offers that did not align with her goals, Gorman has chosen to team up with Estée Lauder in a three-year partnership that goes beyond the scope of swiping on skin care and eye shadows for seasonal campaigns (though there will be plenty of that, too).
Gorman will be Estée Lauder's first-ever Global Changemaker, meaning she will not only be bringing her beautiful face, but her voice to the brand, using the power of language to spark change and switch up the definition of self-expression within the beauty industry. The activist and Harvard grad will also be the curator of Writing Change, the Estée Lauder Companies' new initiative to advance literacy among girls and women as a pathway to equality, access, and social change. The brand will be contributing $3 million over the three-year partnership to support said initiative.
"I am honored to partner with the Estée Lauder Companies to activate change through literacy, and to represent a brand founded by such an inspiring and daring woman," Gorman said in a statement. "Mrs. Estée Lauder shattered glass ceilings as a leader in business 75 years ago. Embracing this spirit, I am delighted that our partnership will help inspire women, girls, and all people around the world to do great things, to disrupt, to be confident, and to be future leaders in whatever path they take."
Writing Change recipients will be announced later this year, and Gorman's campaigns will debut next spring.