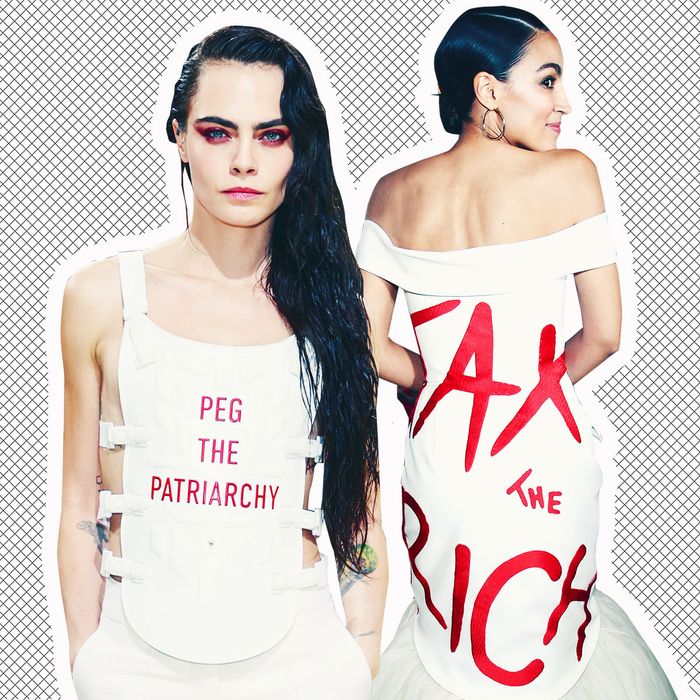 The theme of this year's Met Gala was, loosely, "America," and for some attendees, that apparently means slogans. Chief among them: Representative Alexandria Ocasio-Cortez, who arrived with a little eyebrow raise via a dress designed by Brother Vellies' Aurora James. James, who launched last year's Fifteen Percent Pledge, challenging brands to buy 15 percent of their products from Black-owned businesses, conjured up a tailored tulle white number with the words "TAX THE RICH" splashed across the back in red.
The message, while verbally clear, is a little muddled in execution. AOC is bringing her skepticism of the fashion industry's elitism into one of the industry's most elite events. But the fact remains that she's attending said event — invite-only, where seats are in the five-figure range, and in a couture gown no less — even if her presence is making the one percent a little uncomfortable amidst their revelry.
But AOC isn't the only one with words on her gown: A few other attendees used the high-visibility event to telegraph political messages of their own. New York representative Carolyn B. Maloney came draped in sashes that spelled out "EQUAL RIGHTS FOR WOMEN" and "ERA" (for the Equal Rights Amendment). Meanwhile, Megan Rapinoe rolled in with a purse that reads "IN GAY WE TRUST." My president.
Another piece of sloganeering that's starting to look a little half-baked is Cara Delevingne's Dior vest, which bore the words "PEG THE PATRIARCHY" printed in red. A Canadian sex educator named Luna Matatas is now saying that those words, which she trademarked in 2015, were stolen from her own merch without any credit. This is an especially disappointing look for Delevingne, who co-owns a vibrator brand that campaigned for sex-toy equality in the tech industry.
Still, it's at least nice to know everyone in non-emblazoned couture might have bumped into a little criticism between all the glitz. What's more American than luxury with a side of protest?
This post has been updated.