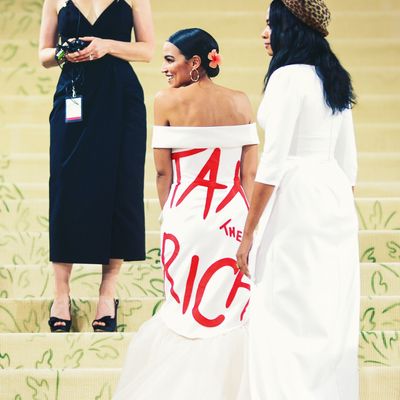 AOC at the Met Gala.
Photo: Ray Tamarra/GC Images
After being delayed for 18 months, the Met Gala took place last night and we finally got our long-awaited fill of ostentatious displays of fashion, vaccine conspiracy theories, and questions about why certain guests were missing. But perhaps no moment struck a nerve more than Congresswoman Alexandra Ocasio-Cortez donning a white dress with the message on the back, in large red letters, "Tax the Rich."
Designed by Aurora James, founder of the label Brother Vellies, Ocasio-Cortez wrote on Instagram about the dress: "Proud to work with @aurorajames as a sustainably focused, Black woman immigrant designer who went from starting her dream @brothervellies at a flea market in Brooklyn to winning the @cfda against all odds - and then work together to kick open the doors at the Met. The time is now for childcare, healthcare, and climate action for all. Tax the Rich."
As with anything the congresswoman does, criticism poured in from all sides. Donald Trump Jr. called her a hypocrite for attending the Met Gala after being "one of the biggest authoritarian mask Karens." Other conservative commentators followed suit, with Matt Walsh calling her "full of shit"; Benny Johnson wrote, "​​AOC THINKING SHE 'OWNED' ANYONE HERE BUT HERSELF: *PRICELESS*"; and Michael Rapaport wrote, "TAX THE RICH even though I live hanging around the rich and can't wait to be rich."
But it wasn't just the conservative boys she made big mad. Twitch celeb Hasan Piker called it a "'catastrophic PR failure." Other commentary called her a hypocrite, noting the hefty cost of the event, calling her presence a performative stunt, and suggesting that rubbing elbows with the rich made her anti-Establishment messaging fall flat.
Perhaps most notably, fashion critic for the New York Times Vanessa Friedman wrote of AOC's attendance: "Alexandria Ocasio-Cortez attending the $35,000-a-ticket #MetGala in a Brother Vellies gown blaring 'Tax the Rich' is a complicated proposition," then followed up with, "To all the people claiming AOC got a 'free' ticket to the #MetGala – just because she did not pay for it does not means it is 'free.' Someone paid 35K for her to attend. Just seems she might have wanted that money used for something other than an elite party ticket."
There's no question that there is a cringe factor when anyone makes a political statement on the red carpet, especially at an event that relies on a certain amount of fantasy and spectacle. And there is certainly plenty to critique about the dress itself: while a flattering silhouette, it wasn't particularly unique, and the font on the dress could have looked less like a fast-food chain's. But the idea that a politician shouldn't attend a fundraiser for an institution in her own town and take advantage of a huge media opportunity to spread a message seems like a much more "complicated proposition."
Knowing her haters would pounce on this, AOC had a response in her Instagram caption, writing: "And yes, BEFORE anybody starts wilding out - NYC elected officials are regularly invited to and attend the Met due to our responsibilities in overseeing our city's cultural institutions that serve the public. I was one of several in attendance. Dress is borrowed via @brothervellies 🤗"
Indeed, it is extremely common for politicians to attend fundraisers — and AOC was not the only politician at last night's gala. Congresswoman Carolyn Maloney was in attendance, wearing a statement piece for the Equal Rights Amendment. Maloney is no stranger to controversial stunts to get a political message across: In 2001, she made an appeal to Congress to justify the invasion of Afghanistan dressed in a burka. New York City mayor Bill de Blasio walked the red carpet with his wife and son — a notable about-face from 2019, when he said the Met Gala "wasn't his thing" because he wasn't "an elite guy." So why the obsession with AOC?
AOC has consistently shown a deftness using social media and the press to her advantage to spread her message. She's continually advocated for policy that helps the poor and holds the rich accountable while remaining relatable. She has made it clear she understands she's working within an unjust system but has opened up possibilities on how to navigate that system while elevating the issues that matter to her constituents, and she's still quite popular in her own district. Suggesting that she didn't think through all the different implications of her attendance is shortsighted, especially after she was criticized last year for wearing expensive, albeit borrowed, clothes on the cover of Vanity Fair.
There is, of course, the legitimate question of whether there should have been a Met Gala this year at all. The pandemic is still raging on, people are still out of work and fighting evictions across the country — not to mention we're all dealing with fallout from global-warming-related natural disasters. There's a lot to be upset about and it's fair to not want to see the people least affected by these troubles at a fancy party. Last night, as celebrities posed, largely maskless, on the red carpet, Black Lives Matter protesters were being arrested outside the Met. As Francesca Fiorentini wrote on Twitter, "Hate the gala, not the gal."
It's also worth considering that in times of great suffering, we also need moments of levity, frivolity, and joy. Watching the Met Gala gives that to a lot of people, including people in the congresswoman's district. The Met is a New York institution, a reminder of the culture that defines our city. And making fun of it while loving it is the most New York way to consume it.
Asked on Instagram Stories what she'd say to her critics about attending the Met Gala, AOC wrote, "I thought about the criticism I'd get, but honestly I and my body have been so heavily and relentlessly policed from all corners politically since the moment I won my election that it's kind of become expected and normalized to me." She added, "Ultimately the haters hated and the people who are thoughtful were thoughtful. But we all had a conversation about Taxing the Rich in front of the very people who lobby against it, and punctured the 4th wall of excess and spectacle."
Perhaps it wasn't your style. But the point of the congresswoman's stunt was to start a bigger conversation about money and power. And it worked.