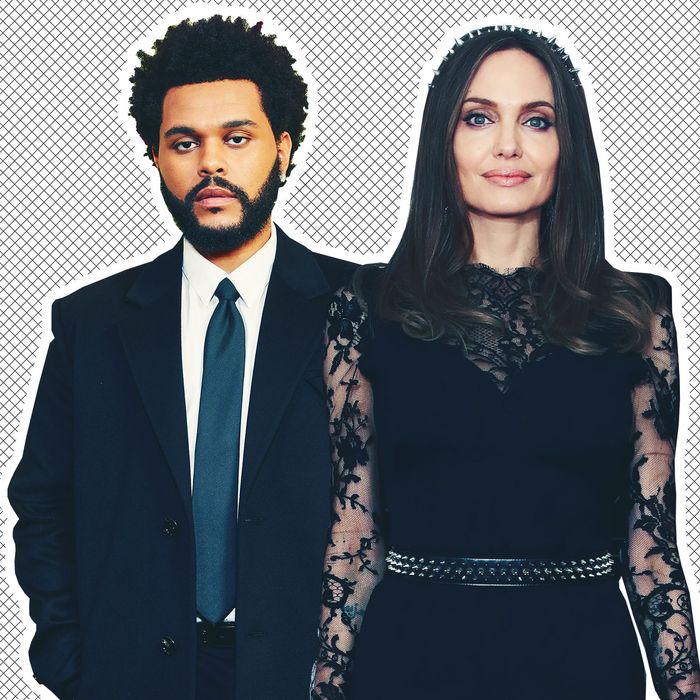 Photo-Illustration: The Cut; Photos: Getty Images
We are living in the golden age of subtle relationships. Exhibit A: The Weeknd and Angelina Jolie, who were spotted this weekend at Rihanna's favorite restaurant Giorgio Baldi, where they spent upwards of two hours chatting about how much black you can wear at once. Just kidding, no one knows what they talked about, but these two appear to have been spending quite a bit of time together of late. A suspicious amount for two people who "just networking."
It all started in July, when the two met up at Giorgio Baldi for the first time (what is it about this restaurant?), which of course sparked dating rumors. A few days later, a source told the Sun they had a private lunch with one of Jolie's many sons in late June. Then in mid-July, they went to the same private concert in L.A.
While these little meetups certainly have the makings of coupledom, according to "Page Six," these dates are actually not dates at all but just swanky business dinners. After their first Giorgio Baldi sighting, a source told the outlet that the Weeknd is "focused on getting into the movie business" and therefore wining and dining Jolie and her Hollywood influence. Having played a 2012 version of himself in Uncut Gems, The Weeknd is apparently primed for a proper entrée onto the silver screen — he's now co-writing, producing, and starring in an HBO series about a pop singer who falls in love with a cult leader in L.A.
It appears that their long list of highly professional topics may have gotten Jolie and the Weeknd horned up enough to let the façade slip — they left the restaurant together in his car, which, again, seems a little suspicious for two people who are just networking. Hot Girl Summer is over, welcome to … Secretly Dating Fall?