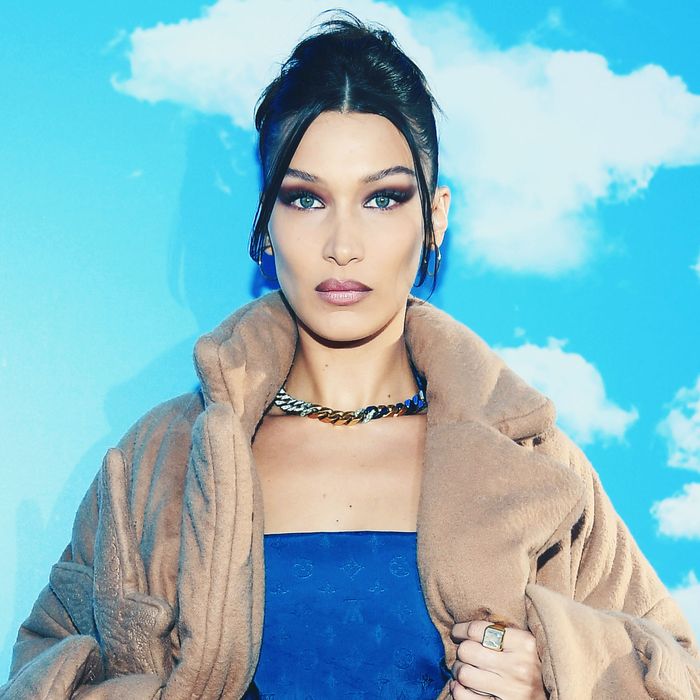 Photo: Pascal Le Segretain/Getty Images
After a number of notable names didn't show up to the 2021 Met Gala — including Lady Gaga, Kylie Jenner, Katy Perry, Sarah Jessica Parker, and Bella Hadid — there was some speculation that their absence may have had something to do with the event's COVID-vaccine mandate. By now, I'm sure you heard that Nicki Minaj confirmed she didn't attend the Met Gala because she didn't want to get vaccinated for the event. (She also espoused conspiracy theories and other misinformation about the vaccine, which the health minister of Trinidad & Tobago, Minaj's native country, recently had to address and dispel.) Well, at least one celebrity would like to excuse herself from the anti-vaxx narrative: model Bella Hadid.
On Wednesday, Hadid posted a picture of herself getting what appears to be the COVID-19 vaccine. "For anyone concerned," she wrote on her Instagram Story over the picture, which is actually a screenshot of a picture. Clearly an intentional move since it shows the photo was taken at precisely 5:37 p.m. on August 6. To which I say … August?! Bella! Where the hell have you been, loca? The vaccine has been accessible to us plebes for months. Surely, you had an opportunity to get vaccinated sooner, no? Also, I find it funny she had someone take a picture. For proof? Posterity? Insta-story content on a slower day? Vaccine selfies were very much a thing among celebrities and regular people alike. But still, why bring someone with you, have them take a picture, and then sit on it for a month, making what is arguably an already-overdue vaccine seem even later? Help me understand, Bella!
Perhaps she waited until August because she was taking her cue from Dua Lipa. (Dua Lipa is dating Hadid's younger brother, Anwar, and neither of them went to the Met Gala either.) At the end of June 2021, Dua Lipa told Vanity Fair she was "committed" to getting vaccinated and was "waiting her turn for the coronavirus vaccine." (The vaccine had been available to all U.S. adults since April 19, though maybe she gave the interview before then?) Anwar, however, said he would "absolutely not" get the vaccine back in December 2020. He later clarified in an Instagram story that he's "not anti-vax" and wants to "continue to learn about the many ways I can protect myself and others." It's unclear whether either have gotten vaccinated since.
Of course, Bella Hadid is not responsible for the actions of her siblings — colorful pasta cabinets included. So, good on her for getting vaccinated. Fingers crossed that other celebrities and the 46 percent of America who is still unvaccinated will follow suit.