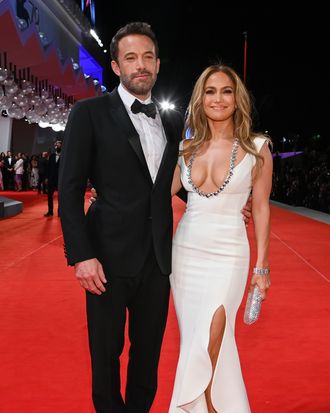 Photo: Pascal Le Segretain/Getty Images
You know when you reunite with your ex of 18 years and you walk the red carpet for the first time since the release of the movie you met filming? No? Well, this very scenario is in fact a new relationship milestone for Jennifer Lopez and Ben Affleck, who rolled into the Venice International Film Festival premiere for his movie The Last Duel.
Last we saw Affleck, he was either perusing wedding rings or completing a scavenger hunt (maybe both?) in Century City, while J.Lo was bopping around with her BEN necklace. Today, they docked in Venice and continued their wedding cosplay for the premier, coordinating in a white dress and classic tux.
This just so happens to be the first time Bennifer has walked the red carpet since the 2003 premiere of Gigli, the movie that brought them together in the first place. After strutting down the carpet holding hands, they gave us a little (blessedly maskless) kiss. Cute! Another relationship milestone in the books. But the question remains: When will J.Lo surrender her precious Starbucks cups and start properly stacking her Dunkin' iced coffees???