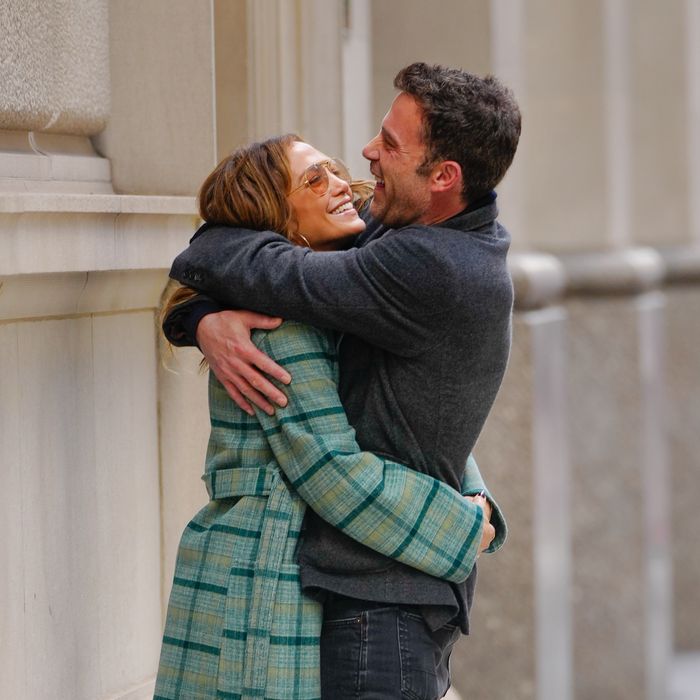 Hello! I, a bitter decrepit hag, am here to inform you that J.Lo and her long-lost-but-reunited beau Ben Affleck are wildly happy and in love. You already saw? Well, let me shove more evidence in your face. The extremely public couple spent a glorious Sunday afternoon in New York City, kissing (without masks!), holding hands, and generally looking like a rom-com montage. Never in my life have I felt more dull and repressed than when beholding this radiant couple unencumbered by the weight of the world. Behold:
Here we have a "September dressing" Pinterest board come to life, which does indeed involve two different plaid patterns. Someone convinced Affleck to part temporarily with his extensive collection of Boston merch to put on what I can only assume to be a cult-y Japanese tailored blazer.
It is nice to see Ben Affleck once again content — nay, thrilled! — to be existing. I guess dating the world's hottest woman can do that!
A little kiss! Later, Bennifer did more kissing in close proximity to a romantic "EVERYTHING MUST GO" sign. Relatable, I guess?
Kissing is also, if you are Jennifer Lopez, a great time to show off your flawless fall manicure while bathed in the light of a thousand sunsets.
Well, I've suffered enough unfettered joy for today, thank you very much.