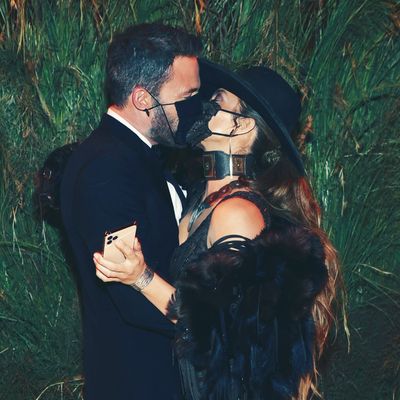 Photo: Jamie McCarthy/MG21/Getty Images for The Met Museum/
It appears that the entire concept of kissing is under attack. And while a certain pair of horny goth couples and their collective passion for touching tongues are partially to blame, there is another offender: Bennifer. Unfortunately, Bennifer has taken an opposite approach to touching tongues. They are running rampantly around kissing with masks on, first at Hamilton and now at the Met Gala. Those fancy steps don't deserve this!
It all started promisingly enough: J.Lo showed up in what I can only describe as the uniform of a cowgirl apprenticing as a pirate. It was intriguing. But, suddenly, Ben Affleck was by her side and the two locked fabric-covered lips. To think just last weekend they were radiating joy and hotness from the Venice red carpet.
And yes, I understand: These two are in love, and they want to show their newly rekindled relationship bliss to all the paparazzi while also respecting CDC guidelines. But Affleck has a history when it comes to kissing in masks. Recall, only last year, his quarantine PDA with Ana de Armas. To Ben and the two women who kissed him with masks: There must be a better solution. A lot of us managed to date through an entire pandemic without ever having to kiss with masks on.
In any case, I hope J.Lo and Ben Affleck are keeping regular kissing in their repertoire, because they've really gone out of their way to show us they're very good at it. Here's to switching it up, I suppose!